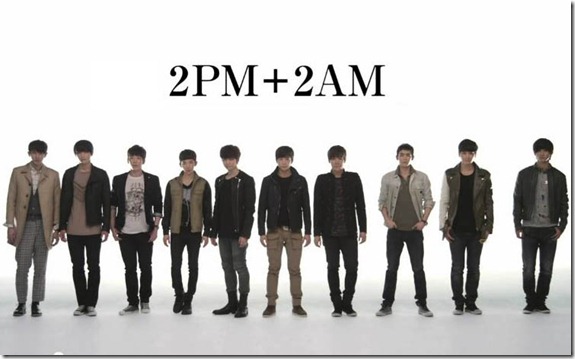 The Korean groups 2PM and 2AM are joining forces – 2PM+2AM – for a new Japanese single "Oneday" and the groups will be featured in a new documentary movie "Beyond the ONEDAY ~Story of 2PM&2AM~". The single will come in 12 editions with 10 being special solo member jacket cover editions and all are set for release July 4th. The documentary film will premier on June 30th at TOHO Cinemas in Roppongi and other theaters across Japan. Release details for the single and a pair of preview videos for the documentary movie follow,
Both songs on the single are featured in the documentary film that features footage from their JYP NATION 2011 tour as well as other behind the scenes footage. More information is available at a special website for the documentary movie – link at end of article.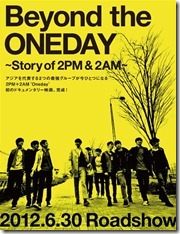 The single comes in 12 editions:
– Limited A with bonus DVD with 2 versions of music video for "Oneday".
– Solo Jacket cover editions 10 different, CD-only editions with track list same as Limited and otherwise similar.
– Regular CD-only with bonus track live recording of song "Angel".
Some details are subject to change and jacket covers haven't yet been release so check back to Comtrya Sugoi for updates.
Two preview videos for the documentary movie follow below the release details…
2PM+2AM – "Oneday" – release date July 4th 2012
Limited A [CD+DVD] (¥1800)


JunSu jacket [CD] (¥1020)


[CD]
1. Oneday
2. No Goodbyes
3. Oneday (off vocal)
4. No Goodbyes (off vocal)
[DVD]
1. Oneday (music video)
2. Oneday (movie ver.)
[CD]
1. Oneday
2. No Goodbyes
3. Oneday (off vocal)
4. No Goodbyes (off vocal)
Nichkhun jacket [CD] (¥1020)


TaecYeon jacket [CD] (¥1020)


WooYoung jacket [CD] (¥1020)


JunHo jacket [CD] (¥1020)


ChanSung jacket [CD] (¥1020)


ChangMin jacket [CD] (¥1020)


SeulOng jacket [CD] (¥1020)


Jo Kwon jacket [CD] (¥1020)


JinWoon jacket [CD] (¥1020)


Regular [CD] (¥1200)


[CD]
1. Oneday
2. No Goodbyes
3. Oneday (off vocal)
4. No Goodbyes (off vocal)
5. Angel (live recording) [bonus track]
2AM Official website (Japanese)
2PM Official website (Japanese)