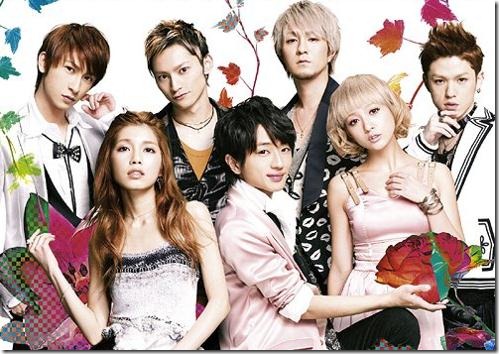 Group AAA has a new single "Still Love You" due out May 16th! It will be the group's 32nd single since their formation in 2005 and it will be available in three editions. AAA also just exposed a preview music video via the avex official YouTube channel. More release details and the video follow,
The group is also kicking off their biggest national tour "AAA TOUR 2012 ~777~ TRIPLE SEVEN" that hits 39 performances around Japan. The tour started off with two performances at Hokuto Culture Hall in Nagano this past Saturday/Sunday (4/21-4/22). It will wrapped up with two performances at Osaka Castle Hall (9/29-9/30) and a final performance at Okinawa Convention Center (10/8).
"Still Love You" is offered in three editions: a Limited A with bonus DVD that includes music video, part 1 of the off-shoot footage, and part 3 of MC footage from the AAA 6th Anniversary Tour; a Limited B with bonus DVD with part 2 of the off-shoot footage and part 4 of the MC footage; and a Regular CD-only edition with bonus track remix version of "Still Love You".
First Press versions of each offer bonus of a trading card  (types A, B, & C each 1 of 8).
Video preview of "Still Love You" is after the release details.
AAA – "Still Love You" – release date May 16th 2012
Limited A [CD+DVD] (¥1890)


Limited B [CD+DVD] (¥1890)


[CD]
1. Still Love You
2. I$M
3. Still Love You (off vocal)
4. I$M (off vocal)
[DVD]
1. Still Love You (music video)
2. Still Love You (off shoot A)
3. AAA 6th Anniversary Tour MC part 3
[CD]
1. Still Love You
2. I$M
3. Still Love You (off vocal)
4. I$M (off vocal)
[DVD]
1. Still Love You (off shoot B)
2. AAA 6th Anniversary Tour MC part 4
Regular C [CD] (¥1250)


 
CD]
1. Still Love You
2. I$M
3. Still Love Your (Remo-con remix)
4. Still Love You (off vocal)
5. I$M (off vocal)
 
AAA – Still Love You – release date May 16th 2012
AAA Official website 2012 Tour info