February 13, 2012
-
toyNN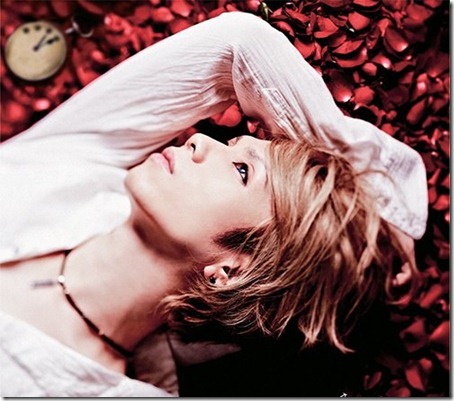 Acid Black Cherry has exposed the album jacket covers for their upcoming album "2012" which is set for release on March 21st. Early details on the new album were previously posted here at Comtrya Sugoi check those out and the jacket covers that follow,
A few more First Press details on "2012" release: Both Limited editions will offer special packaging, the Regular CD-only edition will offer a 44-page booklet, and all editions a B2-size poster for First Press editions.
Acid Black Cherry – "2012" – release date March 21st 2012.
Type A [CD+DVD] (¥3940) 


Type B [CD+DVD] (¥3940) 


[CD]
1. Re:birth (9th Single)
2. Shoujo no Inori III (10th Single)
3. Pistol (11th Single)
4. Shangri-La (12th Single)
5. Chou (13th Single)
6. CRISS (14th Single)
7. YES (15th Single)
8-13. tba
[DVD] (music videos)
1. Re:birth
2. Shoujo no Inori III
3. Pistol
4. Shangri-La
5. Chou
6. CRISIS
7. Yes
(special edit versions of the music videos)
8. Re:birth
9. Shoujo no Inori III
10. Pistol
11. Shangri-La
12. Chou
13. CRISIS
14. Yes
15. yasu interview about the DVD
[CD]
1. Re:birth (9th Single)
2. Shoujo no Inori III (10th Single)
3. Pistol (11th Single)
4. Shangri-La (12th Single)
5. Chou (13th Single)
6. CRISS (14th Single)
7. YES (15th Single)
8-13. tba
[DVD] Live performances from "Acid Black Christmas" (Osaka-Jo Hall Dec-25th 2012)
1. Opening movie
2. CRISIS
3. Chou
4. Nemuri Hime
5. Fuyu no Maboroshi
6. Black Cherry
7. Pistol
8. Shoujo no Inori III
9. Re:birth
10. SPELL MAGIC~
11. Yes
12. Shangri-La
13. 20+∞Century Boys
Type C [CD] (¥3000) 


 
[CD]
1. Re:birth (9th Single)
2. Shoujo no Inori III (10th Single)
3. Pistol (11th Single)
4. Shangri-La (12th Single)
5. Chou (13th Single)
6. CRISS (14th Single)
7. YES (15th Single)
8-13. tba