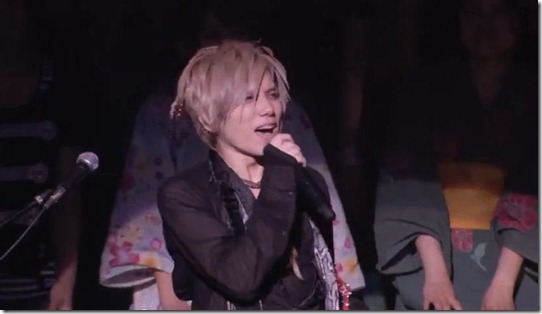 Acid Black Cherry is getting read to release their live DVD, Blu-ray, and CD of their "Acid Black Cherry TOUR 2012". These releases capture yasu and the group's performance at the final tour stop – the famous Nippon Budokan on July 20th. The DVD and Blu-ray include documentary footage of the concert tour that start back in May and spanned 22 performances, ending with two performances at the Budokan. The DVD and CD releases hit stores October 17th and the Blu-ray version on November 21st. Read on for more details and preview videos.
The "Acid Black Cherry TOUR 2012" two disk DVD and one disk Blu-ray release includes 21 songs with interlude and MC sessions for 140 minutes of live concert footage. Additional bonus footage provides 20 minutes of documentary behind-the-scenes footage from the 2012 tour.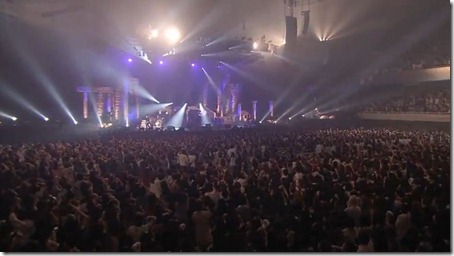 The two disk CD edition includes the same content as audio only and at a friendly price.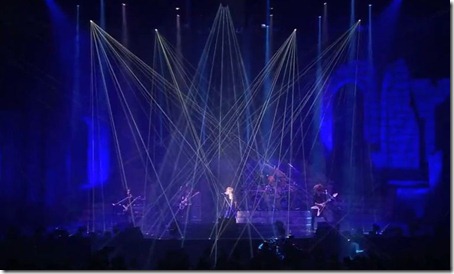 Only the DVD edition includes First Press bonuses of a 24-page booklet and a lottery ticket for "Acid Black Cherry 5th Anniversary Live 'Erect'" at one of six scheduled performances –
– November 30th Fukuoka Sun Palace, Fukuoka
– December 5th Nitori Cultural Hall, Hokkaido
– December 11th Yoyogi National Gymnasium, Tokyo
– December 13th Yoyogi National Gymnasium, Tokyo
– December 24th NGK Insulators Hall, Aichi
– December 30th Osaka Castle Hall, Osaka
Preview videos follow below the release details.
Acid Black Cherry – "Acid Black Cherry TOUR 2012" – release date October 17th 2012
Two disk DVD (¥6300)


Two disk CD (¥1800)


[DVD 1]

Opening
~until~
1. doomsday clock
2. Pistol
3. CRISIS
4. Tsumitobachi ~Kamisama no Aribai~
5. Chou
6. Yubiwa Monogatari
~the day~
7. Fallin' Angel
8. in the mirror
9. Yes
10. so…Good night.
11. Cherry Cherry
12. Re:birth
13. Shoujo no Inori
14. Shoujo no Inori III
15. SPELL MAGIC
– Encore –
1. Fuyu no Maboroshi ~Acoustic version~
2. Kimigairukara
3. Sonohi ga Kuru Made
4. Shangri-La
~comes~
– W Encore –
1. Black Cherry
2. 20+∞Century Boys

[DVD 2]
1. Documentary ~ Acid Black Cherry TOUR 2012

[CD 1]

1. Opening
2. ~until~
3. doomsday clock
4. Pistol
5. CRISIS
6. Tsumitobachi ~Kamisama no Aribai~
7. Chou
8. Yubiwa Monogatari
9. ~the day~
10. Fallin' Angel 
11. in the mirror
12. Yes
13. so…Good night.
14. Cherry Cherry
15. Re:birth
16. Shoujo no Inori
17. Shoujo no Inori III
18. SPELL MAGIC
– Encore –
[CD 2]
1. Fuyu no Maboroshi ~Acoustic version~
2. Kimigairukara
3. Sonohi ga Kuru Made
4. Shangri-La
5. ~comes~
– W Encore –
6. Black Cherry
7. 20+∞Century Boys

Blu-ray (¥7000)  November 21st



[BD]
Opening
~until~
1. doomsday clock
2. Pistol
3. CRISIS
4. Tsumitobachi ~Kamisama no Aribai~
5. Chou
6. Yubiwa Monogatari
~the day~
7. Fallin' Angel
8. in the mirror
9. Yes
10. so…Good night.
11. Cherry Cherry
12. Re:birth
13. Shoujo no Inori
14. Shoujo no Inori III
15. SPELL MAGIC
– Encore –
16. Fuyu no Maboroshi ~Acoustic version~
17. Kimigairukara
18. Sonohi ga Kuru Made
19. Shangri-La
~comes~
– W Encore –
20. Black Cherry
21. 20+∞Century Boys 
22. Documentary ~ Acid Black Cherry TOUR 2012
Acid Black Cherry Official site (avex)