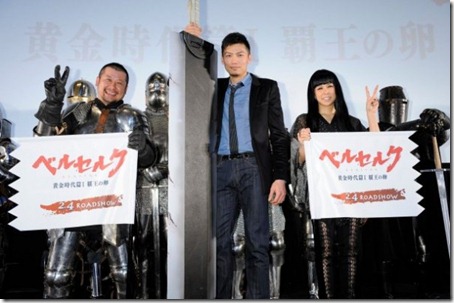 Ai has just released the full length (4:45) music video for "Utsukushikimono" via her official Youtube channel. The song featured as ending theme and video feature new footage from the upcoming Berserk film, "Berserk Ōgon Jidai-Hen I: Haō no Tamago" (Berserk Golden Age Arc I: Egg of the Supreme Ruler). The movie is set to hit theaters February 4th. More info and the video follows,
Ai previously released a short version of the music video and will release a new album "INDEPENDENT" which includes "Utsukushikimono" on February 22nd. Check out more information in a previous post here about Ai, her new song, and its tie to the Berserk film.
"Berserk Ōgon Jidai-Hen I: Haō no Tamago" is the first of three planned Berserk films, retelling the Golden Age arc from the original Berserk manga.
Ai – "Utsukushikimono" – Berserk ending theme – film hits theaters in Japan Feb 4th
Source: Ai Official Youtube channel