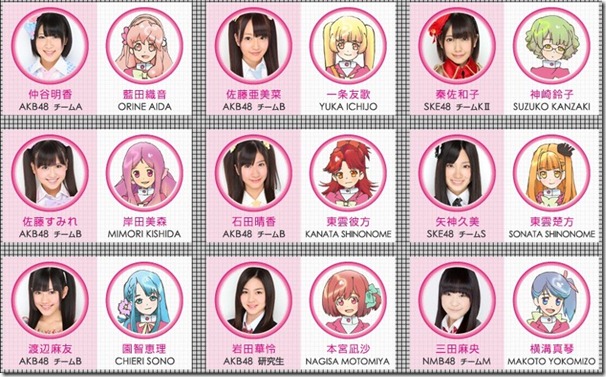 The AKB48 TV anime "AKB0048" has announced the casting of the 9 main characters. The "AKB0048" story revolves around 9 young idols aiming to be "legendary idols" and is set to air this Spring 2012. The 9 selected members have gone through the final casting and matched with their character in the animation project. Details follow,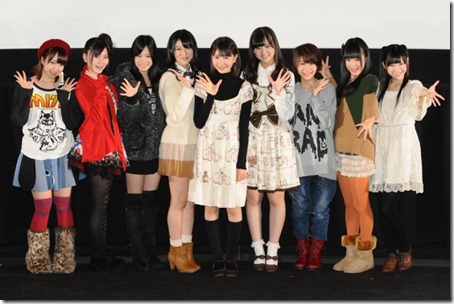 Back on December 13th after several rounds of auditions that included all members of the AKB48 family, a final 9 representing AKB48, SKE48, and NMB48 were announced as the main character voice cast for the "AKB0048".
For the casting, director Kawamori Shoji commented, "before the casting auditions, to some extent there was an expectation toward which member would play which role. But you've got to try a variety of roles, see how the dialogue and characters are played with in four person groups, then you come to see new possibilities. The staff was in heated debate over the cast until this morning but now this cast has been selected."
In addition, the cast will perform the anime opening and ending theme songs, the insert songs, and character songs. Details of these releases and the episode schedule will be announced later.
Animation "AKB0048" main character 9 casting (see top image)
Orine Aida – Nakaya Sayaka (AKB48)
Chieri Sono – Watanabe Mayu (AKB48)
Nagisa Motomiya – Iwata Karen (AKB48)
Yuka Ichijō – Sato Amina (AKB48)
Mimori Kishida – Sato Sumire (AKB48)
Susuko Kanzaki – Hata Sawako (SKE48)
Makoto Yokomizo – Mita Mao (NMB48)
Sonata Shinonome – Yagami Kumi (SKE48)
Kanata Shinonome – Ishida Haruka (AKB48)
Source: natalie