September 18, 2012
-
toyNN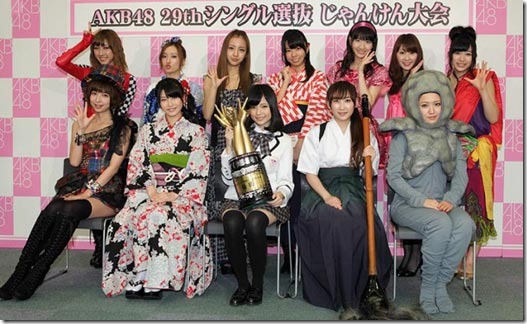 AKB48 has announced their 29th single that features the 16 AKB48 idols who survived their annual Janken Taikai (Rock-Paper-Scissors) tournament. The winner Shimazaki Haruka and the rest of the 16 winners follow below. Their 29th single isn't yet titled (they announced the title for their 28th single "UZA" during the tournament) but will come in three editions and scheduled for release on December 5th. More early release details and pre-order link follows…
~ "Eien Pressure" single title – more details here ~
The 16 senbatsu members who made it through the 29th single Janken tournament,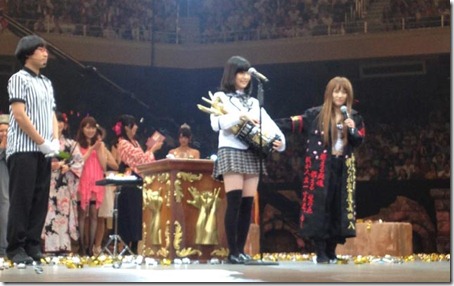 1st: Shimazaki Haruka, 2nd: Nito Moeno, 3rd: Yokoyama Yui, 4th: Uchida Mayumi, 5th: Shinoda Mariko, 6th: Abe Maria, 7th: Takeuchi Miyu, 8th: Nakamura Mariko.
9th-16th: Itano Tomomi, Kimoto Kanon, Umeda Ayaka, Maeda Ami, Nakata Chisato, Ueno Kasumi, Kashiwagi Yuki, and Matsubara Natsumi.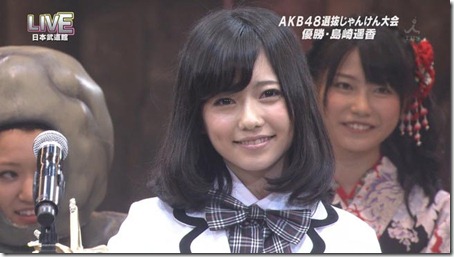 Their 29th single comes in three editions and each includes 2 new songs plus a third song different on each edition. The karaoke versions of each will be included also. The bonus DVD included with each edition will have 3 music videos and bonus footage. And like the CD tracks the third music video differs on each.
First Press versions of each adds a bonus photo and application card.
Release details are still early, title, cover jackets, track list and other possible bonuses will be announced so check back at Comtrya Sugoi for updates.
AKB48 – 29th single – release date December 5th 2012
Limited A [CD+DVD] (¥1600)


Limited B [CD+DVD] (¥1600)


[CD]
1. title track
2. coupling track M
3. coupling track A
4. title track (off vocal)
5. coupling track M (off vocal)
6. coupling track A (off vocal)
[DVD]
1. title track
2. coupling track M
3. coupling track A
[CD]
1. title track
2. coupling track M
3. coupling track B
4. title track (off vocal)
5. coupling track M (off vocal)
6. coupling track B (off vocal)
[DVD]
1. title track
2. coupling track M
3. coupling track B
Limited C [CD+DVD] (¥1600)


 
[CD]
1. title track
2. coupling track M
3. coupling track C
4. title track (off vocal)
5. coupling track M (off vocal)
6. coupling track C (off vocal)
[DVD]
1. title track
2. coupling track M
3. coupling track C