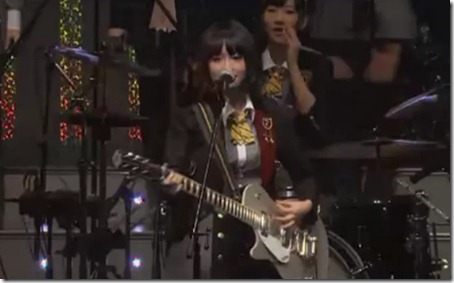 AKB48 revealed "GIVE ME FIVE!" during an encore of their "AKB48 Request Hour Set List Best 100 2012" performance on January 22nd. In savvy marketing typical of AKB48 they have formed a special idol group under the name "Baby Blossom" just for the new single. Its members will be all 18 senbatsu members with the lead instruments handled by, Maeda Atsuko (RG), Takahashi Minami (LG), Oshima Yuko (B), Kojima Haruna (Syn), Watanabe Mayu (Key), and Kashiwagi Yuki (Dr). More details and jacket covers follow,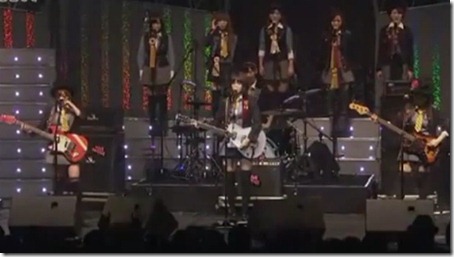 The other senbatsu members and instruments, will comprise horn, percussion and choir groups Minegishi Minami (trombone), Yokoyama Yui and Matsui Rena (trumpet), Shinoda Mariko (tambourine), Itano Tomomi (Shaker),  Matsui Jurina (percussion), and Kitahara Rie, Yamamoto Sayaka, Kasai Tomomi, Takajo Aki, Kashiwagi Yuki, Miyazawa Sae (Chorus)
The members will actually be performing and playing the instruments in Baby Blossom but they report that only three members have prior experience playing. Interestingly over the past 4-5 months all the girls have been asked to apply many hours of instrument practice during their normally very busy schedules. [Hmm, 4 or 5 months of practice and the senbatsu selection just happened….perhaps all well planned out months in advance?]
Minegishi Minami shared that she had been practicing the trombone, "Being in AKB for a long time, I've grown accustomed to many things. It's been awhile since I've faced such a difficult situation so I'm very happy I practiced my best."
Takahashi Minami who is responsible for lead guitar added, "Hang in there and do your best everyone then anything is possible."
Jacket covers for "GIVE ME FIVE!" – Release details and full track list previously posted here.
| | |
| --- | --- |
| Type-A (Limited First Press) | Type-A Regular |
| Type-B (Limited First Press) | Type-B Regular |
Source: Oricon