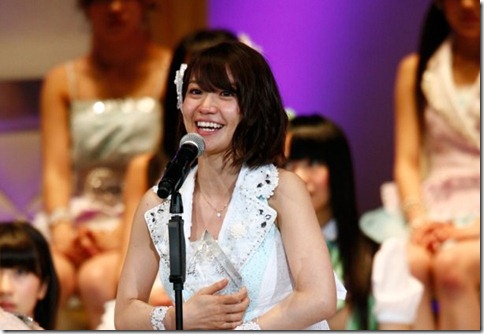 AKB48 held their general "senbatsu" election at Nippon Budokan to select the leader and members for their 27th single. The winner is Oshima Yuko – its the 4th senbatsu election and her second time winning – she was voted on top in 2010 for single "Heavy Rotation". There were 237 members from AKB48, NMB48, SKE48, and HKT48 participating. A total 64 members were selected to participate on the upcoming single which is scheduled for release on August 29th. More details and videos follow.
This year's General Election was streamed live via Google + in both Japanese and English. Watchers could interact by +1'ing at any point during the live stream and follow a graph of other +1's during the live event – site http://www.akb48plus.com/
Oshima Yuko's popularity isn't a surprise as she has been either 1st or 2nd in the four senbatsu elections having lost the top spot twice to graduating top member Atsuko Maeda who didn't participate this year. Maeda did pass her top spot to Oshima and tearfully congratulated her. (click photos to enlarge)
Going by the voting the top 16 girls will participate on the title track for the upcoming single, the next 16 girls will be grouped as "Next Girls" for the coupling track, the next 16 girls as "Under Girls" for one of the additional coupling tracks, and the final group of 16 girls as the "Future Girls" to participate on a coupling track.
AKB48's current single is their all-time best selling "Manatsu no Sounds good!" selling over 1.6 million copies its opening week (May23rd) (release details) and charting #1 on Oricon.
AKB48 has posted several videos – a live video of Oshima Yuko being announced as the winner and a very tearful acceptance and speech follow (13min), also her formal message/speech video – two identical but one has an English dub!
Live – AKB48 senbatsu election 2012 winner Oshima Yuko
Oshima Yuko – formal speech after winning AKB48 senbatsu election 2012
English dub! – Oshima Yuko – formal speech after winning AKB48 senbatsu election 2012
Photos via natalie