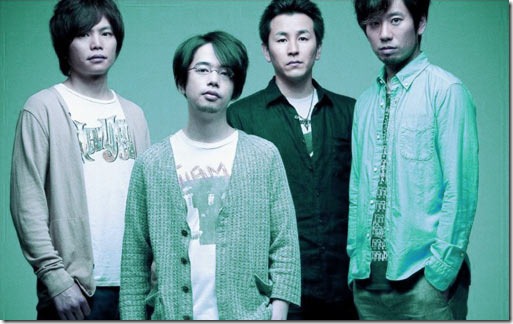 ASIAN KUNG-FU GENERATION (Ajikan) has updated the release details on their 7th album "Landmark". The full track list and cover jackets have been revealed! "Landmark" is Ajikan's first original album in over 2 years and comes in three editions including a special Limited with bonus vinyl LP. The album is scheduled to be in stores September 12th. Read on for more details.
ASIAN KUNG-FU GENERATION also announced a national tour of Japan in support of the new album that starts October 12th in Kanagawa Prefecture and ends December 21 back in Kanagawa Prefecture. The tour is scheduled for 22 performances at 19 venues throughout Japan. Complete tour dates for the ASIAN KUNG-FU GENERATION Tour 2012 and link to special website follow at end of article.
Album "Landmark" comes in three editions that share the same CD track list,
– Limited with bonus vinyl LP and booklet. The LP features songs recorded live at Nippon Budokan performance supporting compilation album release "BEST HIT AKG" February 2012.
– Limited with bonus DVD that includes 8 live performances recorded at the band's festival NANO-MUGEN CIRCUIT 2011 and 2012.
– Regular CD-only.
Ajikan busy summer has also included the release of a new single on July 25th – "Soredewa, Mata Ashita" – which is featured as the theme song for the new NAURTO movie ""NARUTO the Movie: Road to Ninja". More details on their single release and movie trailer are posted here.
ASIAN KUNG-FU GENERATION – "Landmark" – release date September 12th 2012
Limited [CD+LP] (¥6980)


Limited [CD+DVD] (¥3800)


[CD]
1. All right part2
2. N2
3. 1.2.3.4.5.6. Baby
4. A & Z
5 Taiyo Kouro
6. Bicycle Race
7. Soredewa Mataashita
8.1980
9. Machine gun to Keiyoshi
10. Rail Road
11. Kakato de ai Ouchi Narase
12. Anemone no Saku Haru ni
[LP] (Live Nippon Budokan Feb 2012)

1. After Dark
2. Soranin
3. Marching Band
4. Rewrite
5. Loop & Loop
6. Kimitoiuhana
7. Kakato de ai Ouchi Narase
8. All right part2

[CD]

1. All right part2
2. N2
3. 1.2.3.4.5.6. Baby
4. A & Z
5 Taiyo Kouro
6. Bicycle Race
7. Soredewa Mataashita
8.1980
9. Machine gun to Keiyoshi
10. Rail Road
11. Kakato de ai Ouchi Narase
12. Anemone no Saku Haru ni
[DVD] (Live NANO-MUGEN CIRCUIT 2011/2012)
1. After Dark
2. Soranin
3. Marching Band
4. Rewrite
5. Loop & Loop
6. Kimitoiuhana
7. Kakato de ai Ouchi Narase
8. All right part2 (AKG & Hashimoto Eriko from Chatmonchy)

Regular [CD] (¥3059)


[CD]

1. All right part2
2. N2
3. 1.2.3.4.5.6. Baby
4. A & Z
5 Taiyo Kouro
6. Bicycle Race
7. Soredewa Mataashita
8.1980
9. Machine gun to Keiyoshi
10. Rail Road
11. Kakato de ai Ouchi Narase
12. Anemone no Saku Haru ni
ASIAN KUNG-FU GENERATION Official website
ASIAN KUNG-FU GENERATION Tour 2012 Special website
Ajikan 2012 Tour dates:
---
October 12, 2012 Yokosuka Arts Theatre, Kanagawa OPEN 18:00 / START 18:30
October 16, 2012 Omiya Sonic City, Saitama Prefecture  OPEN 18:00 / START 18:30
October 20, 2012 Niigata Prefectural Hall  OPEN 17:30 / START 18:00
October 21, 2012 Forest Hall Honda Ishikawa OPEN 17:30 / START 18:00
October 26, 2012 Kurashiki City Hall OPEN 18:00 / START 18:30
October 27, 2012 Hall Uenogakuen Hiroshima Prefecture  OPEN 17:30 / START 18:00
November 2, 2012 City Hall, Sapporo, Hokkaido  OPEN 18:00 / START 18:30
November 4, 2012, Morioka Shimin Bunka Hall  OPEN 17:30 / START 18:00
November 8, 2012 Oryx Osaka theater  OPEN 18:00 / START 18:30
November 9, 2012 Oryx Osaka theater  OPEN 18:00 / START 18:30
November 11, 2012 Biwako Hall in Shiga Prefecture  OPEN 17:30 / START 18:00
November 16, 2012, Fukuoka Sun Palace Hotel & Hall  OPEN 18:00 / START 18:30
November 24, 2012 Century International Conference Hall, Nagoya, Aichi  OPEN 17:30 / START18: 00
November 28, 2012 Citizens' Cultural Center Great Hall Koriyama, Fukushima Prefecture OPEN 18:00 / START 18:30
December 2, 2012 Great Hall Kagawa Prefecture Anabuki α  OPEN 17:30 / START 18:00
December 6, 2012 Civic Center Shimada, Shizuoka Prefecture  OPEN 18:00 / START 18:30
December 8, 2012 Cultural Center, Utsunomiya, Tochigi Prefecture  OPEN 17:30 / START 18:00
December 9, 2012 Sun Plaza Hall in Sendai, Miyagi Prefecture  OPEN 17:30 / START 18:00
December 13, 2012 Tokyo International Forum Hall A, Tokyo  OPEN 18:00 / START 19:00
December 14, 2012 Tokyo International Forum Hall A, Tokyo  OPEN 18:00 / START 19:00
December 20, 2012, Kanagawa Prefectural Hall  OPEN 18:00 / START 18:30
December 21, 2012, Kanagawa Prefectural Hall  OPEN 18:00 / START 18:30