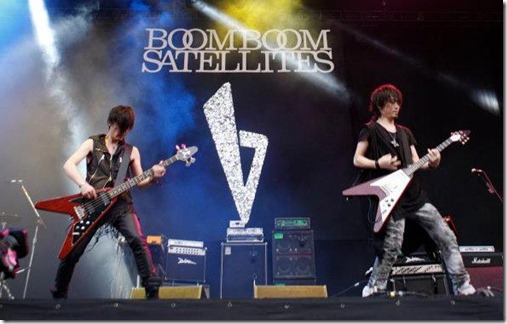 Boom Boom Satellites celebrating their 15th anniversary has a new album "REMIXED" which features their greatest hits remixed by artists such as ryo (supercell), DJ KRUSH, Koji Nakamura (LAMA,supercar), and others. The album also includes the winner of the "BROKEN MIRROR" remix contest held in conjunction with Nico Nico Douga. The album comes in one Regular two-CD edition and hits stores September 19th November 7th. More details follow…
~ new release date and album cover
Boom Boom Satellites held a remix contest for their new single "BROKEN MIRROR" in collaboration with Nico Nico Douga that ran from June through the end of July. The single "BROKEN MIRROR" released June 6th and has tie-in as the theme song for the 5th Mobile Suit Gundam Unicorn movie (release details). More details on the contest are available at the Boom Boom Satellites Nico Nico channel (link at bottom of report). Over 80 remix songs were official entered and the results of the contest were just revealed during a special live on Nico Nico Douga on Friday.
The band also has recently released a new song "ANOTHER PERFECT DAY" via digital download on Chaku-Uta. The song will be featured in CG animated movie "Starship Troopers Invasion".
Release was delayed due to changes needed for the cover art. Each album now adds a serial number for reception and early ticket purchase for newly announced BOOM BOOM SATELLITES Tour 2013.
Boom Boom Satellites – REMIXED – release date September 19th 2012 November 7th 2012
Regular [CDx2] (¥3400)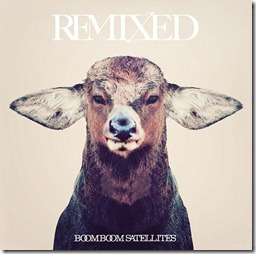 Old cover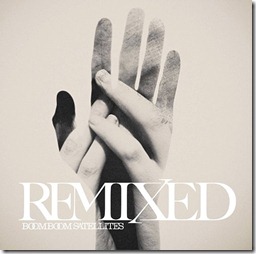 [CD1]

1. BROKEN MIRROR (NicoNico contest winner)
2. BROKEN MIRROR (THE LOWBROWS)
3. BROKEN MIRROR (spcl)
4. BACK ON MY FEET (I'm Back version ALTZ)
5. EASY ACTION (Coburn's Sleazy Action remix)
6. EASY ACTION (LONDON ELEKTRICITY)
7. KICK IT OUT feat. FLO RIDA ,TAHJ MOWRY 8.BLINK (DJ TASAKA)
9. BLINK  – Koji Nakamura(supercar)(PS)
10. SLOUGHIN' BLUE (PARADOX Virtual Drummer)
11. SLOUGHIN' BLUE  (JAMSCAPE)
12. YOUR REALITY'S A FANTASY BUT YOUR FANTASY IS KILLING ME feat. CHUCK D (COLDCUT V. STEINSKI-GOING UNDER MIX)

[CD2]
1. SOLILOQUY (DAZZLE-T'S HEAD ROC RMX)
2. FOGBOUND (KLUTE'S LONDON FOG)
3. ON THE PAINTED DESERT (Sandwicked Version) Reconstructed by KAN TAKAGI
4. ON THE PAINTED DESERT (TANZMUZIK)
5. ON THE PAINTED DESERT (DJ KRUSH)
6. PUSH EJECT (HOWIE B)
7. The Wonderful Wizard of Dub (DONS OF QUIXOTE)
8. 4 A MOMENT OF SILENCE(Trapezoid mix)JACK DANGER for MEAT BEAT MANIFESTO
9. DUB ME CRAZY Ver.02 (OPTICAL)
10. DUB ME CRAZY Ver.02 (DEPTH CHARGE)
11. JOYRIDE (Luke Slater's Basil Brush Boom Mix)
12. JOYRIDE REMIX~Progression Final Operation(BBS REMIX)
Boom Boom Satellites Remix Contest NicoNico Douga channel
Boom Boom Satellites download Chaku-Uta
Boom Boom Satellites website (Sony music)