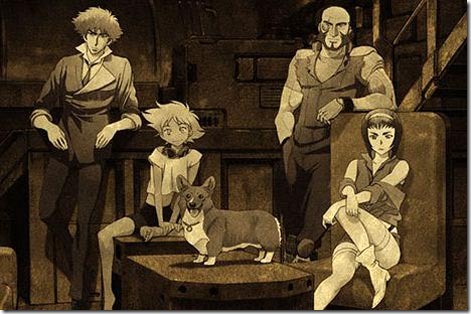 Iconic anime COWBOY BEBOP has several releases announced to celebrate its 15th anniversary. A reissue of album "Tank! THE! BEST!" by Yoko Kanno & The Seatbelts which contains 9 songs from the TV anime and movie plus 3 tracks from the 2005 game. Other sound tracks and albums from the anime series and movie are also being re-released. Additionally announced a COWBOY BEBOP Blu-ray box set of all 26 episodes of the TV anime, re-mastered with a Limited edition which includes a bunch of bonuses. All the releases hit stores December 21st – read on for more details.
COWBOY BEBOP (1998) is an original anime from studio Sunrise directed by Shinichiro Watanabe (Samurai Champloo), series composition/episode scripts by Keiko Nobumoto (Wolf's Rain), and music by Yoko Kanno (Macross, Darker than Black). The story takes place several 100 years in the future after earth becomes mostly uninhabitable after a space-gate accident destroys the moon. Mars has now become the center of most earth activities and the central launch point for space travel to newly colonized planets beyond our solar system.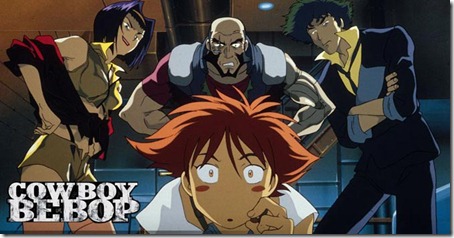 These new territories are a bit lawless and the anime takes a theme of the wild-west from America's late 19th century. Enter the main character Spike Spiegel, a bounty Hunter with a dark past, who with this partners Jet Black, Faye Valentine, Ed and Ein the dog do their best to live bounty to bounty on their adventures from planet to planet.
The anime ran 26 episodes plus an original movie "Knockin' on Heaven's Door" (2001) (not part of the box set and previously released on Blu-ray).
The COWBOY BEBOP Blu-ray release is available in two editions which come on 7 disks, no region encoding, Japanese language track only and no-subtitles,
– Limited with special packaging, 32-page booklet, postcard, raw film piece (sample image), opening & ending storyboards (sample image), novel written specifically for the Limited boxset by lead script writer Keiko Nobumoto, "Ein's Summer vacation" picture drama, special DVD with Cowboy Bebop Extra Sessions, lots of new episode commentary, and more.
– Regular with extras TV CM spots, Non-Super ED, episode commentary.
One of the amazing parts of the anime series is the music by talented composer Yoko Kanno. With a jazz theme and composition not normally connected with anime its sound as endured and continues to be highly regarded as some of the best. The music is performed by The Seatbelts, a diverse band formed by Kanno specifically to create the music for the anime series.
The collection album "Tank! THE! BEST!" released in 2004 and includes mostly vocal tracks from the anime series and movie plus 3 songs composed as part of a 2005 Cowboy Bebop PS2 game. The album comes in one regular edition without any listed bonuses. As part of the 15th anniversary celebration other COWBOY BEBOP sound tracks and compilation albums are being re-released on December 21st.
(cover jacket will be updated when its announced).
Yoko Kanno & The Seatbelts – "Tank! THE! BEST!" – re-release date December 21st 2012
Regular [CD] (¥2100)


[CD]
1. Tank!
2. WHAT PLANET IS THIS
3. COSMIC DARE (PRETTY WITH A PISTOL)
4. DIAMONDS (game)
5. Don't bother none
6. PIANO BLACK
7. MUSHROOM HUNTING
8. No reply
9. BLUE
10. EINSTEIN GROOVIN' (game)
11. PEARLS (game)
12. Gotta knock a little harder
COWBOY BEBOP Blu-ray Boxset – release date December 21st 2012
Limited [BDx7+DVD] (¥36750)


Regular [BDx7] (¥26250)


[BD]
26 Episodes
[DVD]
Cowboy Bebop Extra Sessions
[BD]
26 Episodes