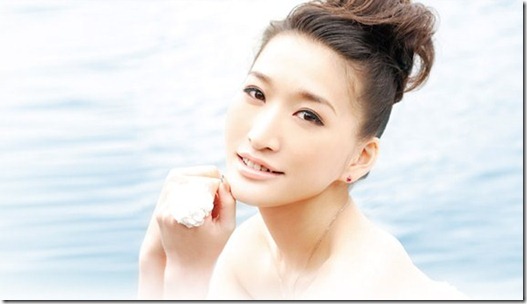 ELISA has updated the release information on her previously announced best-of album "rainbow pulsation ~THE BEST OF ELISA~". Track list and cover jacket is official – and the album is packed. The track list was tentatively at 11 or 12 tracks but will be 16! The bonus DVD with the Limited edition will include 8 music videos and the TV promo spots for her previous 11 singles. The album is set for release on June 20th and the updated details follow,
ELSIA announced back in September 2011 that she was canceling live performances and going on hiatus due to fatigue and exhaustion (more details). A best-of album at this point is a bit worrisome for ELSIA fans – it may signal a pending move away from the music industry or it may be leading to a label change but it may just be the right time for a best-of release.
Originally singed as a model and is still with elite Model Management, ELISA debuted 5 years ago in 2007 with "euphoric field" that was also featured as opening theme for anime Ef: A Tale of Memories. In fact all of ELISA's singles have been used with anime or games as either opening or ending theme songs – 9 singles under her name and the 2 for anime The World God Only Knows released under the name Oratorio The World God Only Knows.
The album will come in two editions:
– Limited with bonus DVD that includes 8 music videos and 11 TV promo spots.
– Regular CD-only
The track list includes 4 new/cover songs – track 16, "Ai Oboete Imasu ka" was the most requested cover-song from fans.
ELISA – "rainbow pulsation ~THE BEST OF ELISA~" – release date June 20th 2012
Limited [CD+DVD] (¥3990) 


Regular [CD] (¥3150) 


[CD]
1. euphoric field
2. Real Force 
3. Wonder Wind
4. Dear My Friend
5. HIKARI
6. ENDLESS ANTHOLOGY (complete ver.) 
7. Ebullient Future 
8. Go Only Knows
9. Shūseki kairo no yume tabibito (ELISA ver.) 
10. Whole New World God Only Knows
11. Special "ONE"
12. Invisible Message
13. Professia Trilogy (new recording)
14. SCARLET WINGS
15. TUNE IN PROMISE (new recording)
16. Ai Oboete Imasu ka (new recording)
[DVD]
1. euphoric field
2. HIKARI
3. Ebullient Future
4. Wonder Wind
5. Dear My Friend
6. Real Force
7. Special "ONE"
8. Invisible Message 
9. TV-spots 11 singles
[CD]
1. euphoric field
2. Real Force
3. Wonder Wind
4. Dear My Friend
5. HIKARI
6. ENDLESS ANTHOLOGY (complete ver.)
7. Ebullient Future
8. Go Only Knows
9. Shūseki kairo no yume tabibito (ELISA ver.)
10. Whole New World God Only Knows
11. Special "ONE"
12. Invisible Message
13. Professia Trilogy (new recording)
14. SCARLET WINGS
15. TUNE IN PROMISE (new recording)
16. Ai Oboete Imasu ka (new recording)