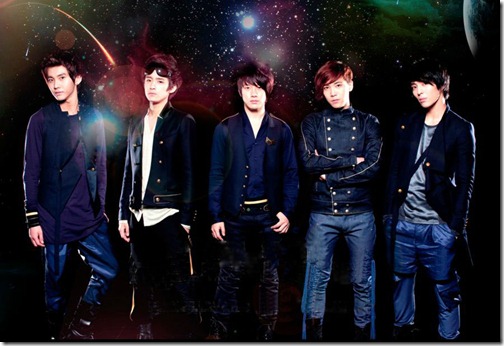 FTISLAND has a new Japanese single, first for 2012 and seventh overall titled "NEVERLAND". The single is featured as the opening theme for Spring anime OZMA that began airing on March 16th. The release due out April 18th is offered in three editions, Limited with bonus DVD, Regular CD-only, and a Limited Lawson stores edition with bonus DVD (differs from Limited). Also revealed is a short teaser video for "NEVERLAND" via the FTISLAND Official YouTube channel. Release details and video follow,
The anime OZMA is much anticipated being created by anime master Leiji Matsumoto (Galaxy Express 999, INTERSTELLA 5555, Captain Harlock, Star Blazers), his first work in over five years, and produced by studio Gonzo. The anime is streaming outside of Japan on Crunchyroll. Check back to Comtrya Sugoi for episode summaries each week as they are made available each Saturday to watch over on Crunchyroll.
Release details aren't yet complete with the the cover jackets so also check back for the update details when they are announced on the single.
Teaser video is just below the release details.
FTISLAND – "NEVERLAND" – release date April 18th 2012
Limited [CD+DVD] (¥2000)


Regular [CD] (¥1200)


[CD]
1. NEVERLAND
2. WANNA GO
3. YUKI
4. NEVERLAND (off vocal)
[DVD]
1. NEVERLAND (music video)
2. NEVERLAND (special feature)
3. X'mas Live 2011 Winter's Night @ Yokohama Arena (Let it go!/Distance)
[CD]
1. NEVERLAND
2. WANNA GO
3. YUKI
4. NEVERLAND (off vocal)
Limited Lawson [CD+DVD] (¥2000)

[CD]
1. NEVERLAND
2. WANNA GO
3. YUKI
4. NEVERLAND (off vocal)
[DVD]
1. MUSIC FOR ALL, ALL FOR ONE @ Yoyogi National Stadium December 25th 2011
FTISLAND – "NEVERLAND" – release date April 18th 2012
FTISLAND Official website (Japan)
FTISLAND Official website (Korea)