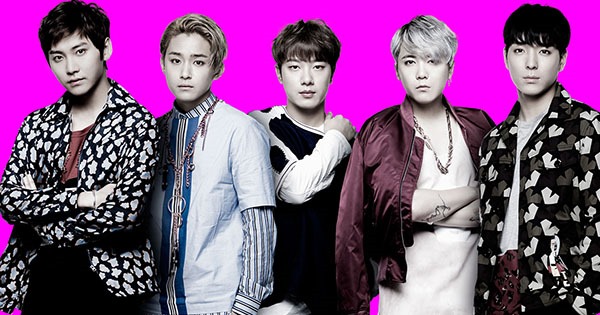 FTISLAND revealed song digest video and more details for new Japanese single JUST DO IT. Their 16th single in Japan features title song written by member Lee Honggi and coupling track EMPTINESS written by member Choi Minhwan. Single JUST DO IT comes on four editions hitting stores August 17th 2016.
Korean band FTISLAND is also busy in their home country with new album Where's the truth? and lead song Take Me Now. Their 6th Korean album released July 18th 2016 – music video for Take Me Now below. Most recently in Japan FTISLAND releasd album N.W.U on April 6th 2016.
Single JUST DO IT comes on four editions. Each features different live coupling tracks. Limited editions and Regular First Press add trading card (1 of 6). Primadonna version adds special beach scandals.
Preview music video for JUST DO IT and song digest video after the release details.
FTISLAND – JUST DO IT – release date August 17th 2016
| | |
| --- | --- |
| Limited A [CD+DVD] (¥2000) | Limited B [CD+DVD] (¥2000) |
[CD]
1. JUST DO IT
2. I'll be there
3. EMPTINESS
4A. YOU DON'T KNOW WHO I AM (Arena Tour 2016 Law of FTISLAND N.W.U at Tokyo Taiikukan 2016.04.30)
4B. WALKING DEAD (Arena Tour 2016 Law of FTISLAND N.W.U at Tokyo Taiikukan 2016.04.30)

[DVD]  A
1. JUST DO IT (music video)
2. making of music video documentary
Arena Tour 2016 Law of FTISLAND N.W.U at Tokyo Taiikukan 2016.04.30
3. YOU DON'T KNOW WHO I AM (multi-angle 5 versions)        

[DVD] B (6th Album "N.W.U" Premium Release Event Live)
1. Identity
2. Walking Dead
3. Time
4. YOU DON'T KNOW WHO I AM
5. COME ON GIRL
6. The Making Of 「N.W.U」 Premium Release Event
Regular [CD] (¥1200)


Primadonna [CD+Goods] (¥2000)   
 
[CD]  Regular
1. JUST DO IT
2. I'll be there
3. EMPTINESS
4. WE ARE… (Arena Tour 2016 Law of FTISLAND N.W.U at Tokyo Taiikukan 2016.04.30)
5. JUST DO IT (off vocal)

[CD]  Primadonna
1. JUST DO IT
2. I'll be there
3. EMPTINESS
4. COME ON GIRL (Arena Tour 2016 Law of FTISLAND N.W.U at Tokyo Taiikukan 2016.04.30)
Take Me Now (6th Korean Album)
FTISLAND Official website (Japan)
FTISLAND at Warner Music Japan