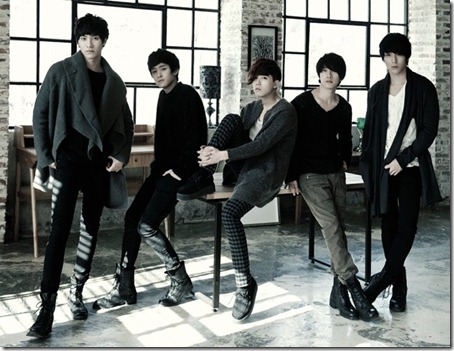 The boys of Korean group FTISLAND have revealed that they will release their second Japanese album, which isn't yet titled, on May 16th. The album is set to come in three editions, a Limited edition with deluxe photo book, a special Limited Lawson's edition with bonus DVD and only available via Lawson's stores in Japan, and a Regular CD-only edition. Both offer First Press bonuses which include a trading card of seven different. Very limited early release information follows,
FTISLAND's first album "FIVE TREASURE ISLAND" released just exactly one year ago on May 18th and charted #1, so there is much anticipation with their 2nd album.
The band will also release a new single "NEVERLAND" on April 18th – release details available.
Please check back to Comtrya Sugoi for new news and details on FTISLAND's new album.
FTISLAND – title to be announced – release date May 16th
Limited [CD+photo book] (¥3800)


Regular [CD] (¥3150)


[CD]
track list to be announced
[bonus]
Deluxe photo book
CD]
track list to be announced
Limited Lawson [CD+DVD] (¥3800)

[CD]
track list to be announced
[DVD]
track list to be announced