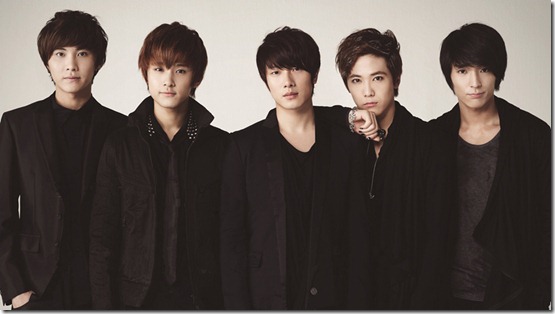 FTISLAND updated the release details for their new Japanese single "TOP SECRET" which will be featured as ending theme for NTV series "Happy Music" starting in July. Previously reported here are the early details for FTISLAND's 8th Japanese single and now the full track list and cover jackets are revealed. The group also just exposed a promotional preview video for the title track. The single will hit stores on August 8th – updated information and teaser music video follows.
The band has been busy this year – releasing their 7th Japanese single "NEVERLAND" on April 18th, their 2nd Japanese album "20 [twenty]" on May 16th, and they just finished up a summer tour with 5 performances at 4 major arenas starting June 24th through July 8th (see previous post for details).
"TOP SECRET" comes in 2 main editions and 2 special editions at limited outlets:
– Limited with bonus DVD. Includes serial code for goods.
– Regular CD-only. First Press version adds a trading card (1 of 7) and serial code for goods.
– Limited Lawson stores exclusive with bonus DVD (differs from normal Limited edition). Includes serial code for goods. – Limited FTISLAND tour edition available only at tour venues with bonus DVD (differs from other editions). Includes serial code for goods.
Serial codes from both the Regular edition and any one of the Limited editions needs to be submitted during the campaign period of August 3rd – 13th to qualify for the goods lottery. Specifics will be announced at a later date.
FTISLAND – "TOP SECRET" – release date August 8th 2012
Limited [CD+DVD] (¥2000)


Regular [CD] (¥1200)


[CD]
1. TOP SECRET
2. Beloved
3. Here
[DVD]
1. TOP SECRET (music video)
2. Special feature 
3. FTISLAND talking about TOP SECRET
[CD]
1. TOP SECRET
2. Beloved
3. Here
Limited Lawson stores exclusive [CD+DVD] (¥2000)

Limited concert venues exclusive [CD+DVD] (¥1400)

[CD]
1. TOP SECRET
2. Beloved
3. Here
[DVD]
1. Release event footage for album "20 [twenty]" ZEPP Tokyo
1a. SATISFACTION (Korean ver.)
1b. WANNA GO
1c. PAPER PLANE
1d. YUKI
1e. STAY
2. Behind the scenes footage for release event
[CD]
1. TOP SECRET
2. Beloved
3. Here
[DVD] Live performances Mezamashi Live August 2011
1. Flower Rock
2. Let it go!
3. Negau
FTISLAND – TOP SECRET – single due out August 8th 2012
FTISLAND Official website (Korea)
FTISLAND Official website (Japan)