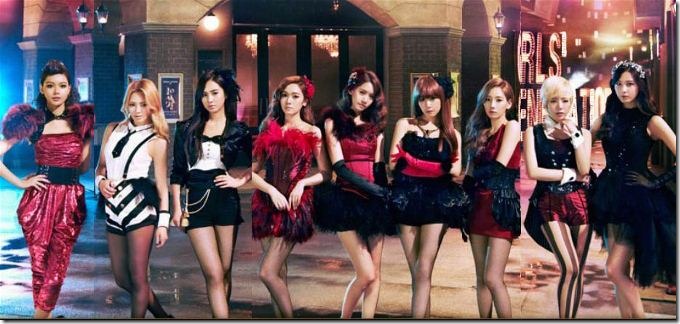 ~ Music videos for PAPARAZZI exposed ~
Girls' Generation (SNSD) has exposed the album covers for their new original Japanese single "PAPARAZZI". We previously posted the release details on their first Japanese single in over a year and first original Japanese single. The girls have also announced their Japanese fansite "SONE JAPAN" with smartphone apps that are free for download. The single "PAPARAZZI" is set to hit stores June 27th. Release details with jack covers and the previously posted teaser music video all follow.
The Girls' Generation fansite SONE JAPAN with apps for iPhone and Android for mobile version are free to download but membership/content will cost ¥350 per month. Links at end of article (may not be active yet).
"PAPARAZZI" comes in three editions:
– Limited A Special Edition with bonus DVD that includes two versions of the music video for "PAPARAZZI",  Photo booklet, two special photos shot during the making of the music video and jacket covers, and special packaging.
– Limited B with bonus DVD that include the music video.
– Regular CD-only.
First Press versions of the two Limited editions include a bonus poster (differs A & B).
Fans waiting over a year for a new original Japanese single release from Girls' Generation are sure to be overflowing with excitement. This should be the their first "original" Japanese single as the previous three single releases have been Korean hits with new Japanese lyrics.
Teaser music video follows after then release details…
Girls' Generation – "PAPARAZZI" – release date June 27th 2012
Limited Special Ed. A [CD+DVD] (¥1920)


Limited B [CD+DVD] (¥1590)


[CD]
1. PAPARAZZI
2. PAPARAZZI (off vocal)
[DVD]
1. PAPARAZZI (music video)
2. PAPARAZZI (close-up ver. music video)
[CD]
1. PAPARAZZI
2. PAPARAZZI (off vocal)
[DVD]
1. PAPARAZZI (music video)
Regular [CD] (¥1100)


 
CD]
1. PAPARAZZI
2. PAPARAZZI (off vocal)
 
Girls' Generation – "PAPARAZZI" – release date June 27th 2012
Girls Generation Official Japan website
Girls Generation SONE JAPAN Official fansite
Girls Generation SONE JAPAN Official fansite mobile
Girls Generation SM Town website