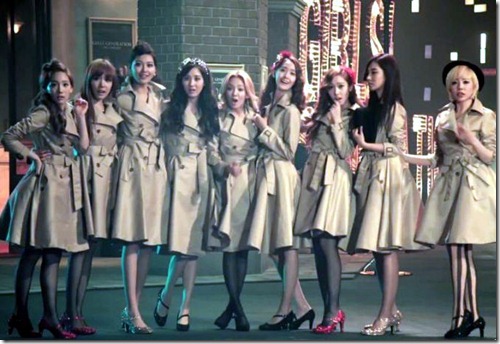 ~ Updated release details – cover jackets exposed – posted here! ~
Girls' Generation (SNSD) has announced a new original Japanese single "PAPARAZZI" and exposed a teaser preview music video. Its their first single of 2012 and its been over a year since "Mr. Taxi" was released as a Japanese single. The group has been busy touring and promoting their international release of album "THE BOYS". The single "PAPARAZZI" is offered in three editions and is set to hit stores June 27th. More release details and the teaser preview music video follow.
The new Japanese single is noted as a powerful dance song, with collaborations extending to the USA – its mixed by Grammy Award wining Miles Walker and mastered by Tom Coyne of Sterling Sound.
Fans waiting over a year for a new original Japanese single release from Girls' Generation are sure to be overflowing with excitement. This should be the group's first "original" Japanese single!
"PAPARAZZI" comes in three editions:
– Limited A Special Edition with bonus DVD that includes two versions of the music video for "PAPARAZZI",  Photo booklet, two special photos shot during the making of the music video and jacket covers, and special packaging.
– Limited B with bonus DVD that include the music video.
– Regular CD-only.
First Press versions of the two Limited editions include a bonus poster (differs A & B).
Cover jackets aren't yet released so check back to Comtrya Sugoi for updates.
Teaser music video follows after then release details…
Girls' Generation – "PAPARAZZI" – release date June 27th 2012
Limited Special Ed. A [CD+DVD] (¥1920)


Limited B [CD+DVD] (¥1590)


[CD]
1. PAPARAZZI
2. PAPARAZZI (off vocal)
[DVD]
1. PAPARAZZI (music video)
2. PAPARAZZI (close-up ver. music video)
[CD]
1. PAPARAZZI
2. PAPARAZZI (off vocal)
[DVD]
1. PAPARAZZI (music video)
Regular [CD] (¥1100)


 
CD]
1. PAPARAZZI
2. PAPARAZZI (off vocal)
 
Girls' Generation – PAPARAZZI – release date June 27th 2012
Girls Generation Official Japan website
Girls Generation SM Town website
Girls Generation USA website