December 30, 2012
-
toyNN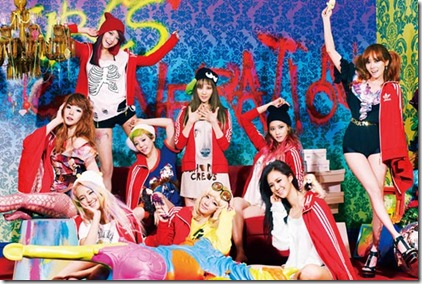 GIRLS GENERATION (SNSD) is getting ready to release their 4th studio album "I Got a Boy" in Korea with import editions available in Japan. The release is the first by the whole group in Korea in over 14 months. The album includes new digital singles "Dancing Queen" and "I Got a Boy" plus more for 10 total tracks. Album "I Got a Boy" releases in Korea on January 2nd 2013 and available in Japan on two import versions on January 11th and February 6th 2013. Read on for more release details and preview music videos.
Song "Dancing Queen" released digitally as a single on December 21st 2012 is a remake of song "Mercy" (2008) by singer Duffy. Its reported that the song was also recorded by GIRLS GENERATION back in 2008 as a possible come-back song after a 9 month hiatus. Eventually song and subsequent hit "Gee" was used instead.
The girls are also collaborating on the lyrics for two of the album's songs – "Baby Maybe" written by Seohyun, Yuri, and Sooyoung – "XYZ" written by Seohyun and Yuri.
Most recently GIRLS GENERATION released their 2nd Japanese album "GIRLS GENERATION II ~Girls & Peace~" on November 28th. The album landed in the #3 spot on the weekly Oricon charts selling over 116,000 copies.
GIRLS GENERATOIN (SNSD) has announced a 2013 Japan tour "Girls Generation Arena Tour 2013" with 14 performance dates tentatively scheduled,
– Feb 9th & 10th World Memorial Hall, Kobe
– Feb 16th & 17th Super Arena, Saitama
– Feb 27th & 28th Marine Messa, Fukuoka
– March 9th & 10th Green Arena, Hiroshima
– March 19th & 20th Super Arena, Saitama
– March 26th & 27th Castle Hall, Osaka
– April 9th & 10th NGK Insulators Hall, Nagoya
Fan club members' tickets get a special reception preceding each event – more details and ticket availability information available at their website under Live events.
Album "I Got a Boy" comes with deluxe packaging on one Regular CD-only edition with 1 of 10 different cover jackets – 9 individual member and 1 group randomly selected plus 40-page photo book (may differ with cover jacket).
A First Press version adds a bonus poster. The Japan import February 6th version is via their Japan record label Universal Music Japan and features the group cover jacket.
Enjoy the music video for "Dancing Queen" and the preview music videos for "I Got a Boy" in dance version and drama version below the release details.
GIRLS GENERATION "I Got a Boy" [import] – release date January 11th 2013 & February 6th 2013
Regular [CD] (¥1677)


Regular (February 6th) [CD] (¥1980)


[CD]
1. I Got a Boy
2. Dancing Queen
3. Baby Maybe
4. (Talk Talk)
5. Promise
6. Express 999
7. (Lost in Love)
8. Look at Me
9. XYZ
10. (Romantic Street)
[CD]
1. I Got a Boy
2. Dancing Queen
3. Baby Maybe
4. (Talk Talk)
5. Promise
6. Express 999
7. (Lost in Love)
8. Look at Me
9. XYZ
10. (Romantic Street)
Girls Generation Official Korea website
Girls Generation at Universal Music Japan
Girls Generation Fanclub SONE JAPAN