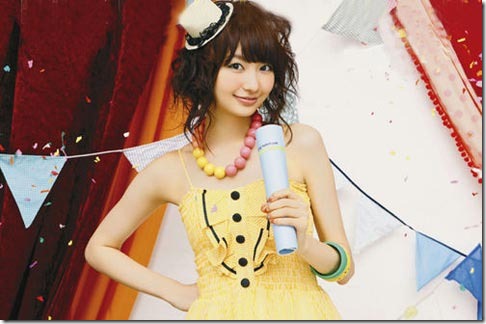 Haruka Tomatsu has her 10th single "Q&A Recital!" announced for release and with tie-in to Fall anime Tonari no Kaibutsu-kun as its opening theme song. Tomatsu will also provide the voice for lead character Mizutani Shizuku. Her new single "Q&A Recital!" comes in two editions and hits stores October 17th. Read on for more release details.
Haruka Tomatsu most recently released her 9th single "Yume Sekai" which is featured as the first ending theme for popular anime Sword Art Online. Tomatsu has been fortunate to also provide her voice to lead female character Asuna in the anime. Sword Art Online continues this Fall.
Anime Tonari no Kaibutsu-kun is adapted from romantic comedy manga written and illustrated by Robico. It follows the story of high school students Mizutani Shizuku and Yoshida Haru who sit next to each other in class. Mizutani is singularly focused on her school work and future, Yoshida is suspended for getting into a fight on the first day of school. Their teacher asked Mizutani to take homework assignments to Yoshida which leads him to believe they are now friends. Mizutani isn't so sure but learns that there is more to Yoshida.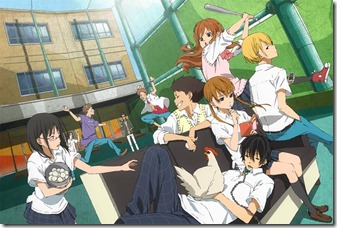 Tonari no Kaibatsu-kun begins airing late-night October 1st on TV Tokyo – no word yet on streaming outside of Japan but Crunchyroll has relationship with TV Tokyo so good chance they will simulcast it, check our Crunchyroll updates page for all the newest anime episodes.
Idol group 9nine with their 8th single "White Wishes" provides the ending theme for the anime – more details can be found – here.
Single "Q&A Recital!" comes in two editions,
– Limited with bonus DVD, animation themed sticker, lottery application, First Press adds bonus poster (varies by store).
– Regular CD-only. First Press adds animation themed sticker, lottery application, and bonus poster (varies by store).
Bonus poster for online stores: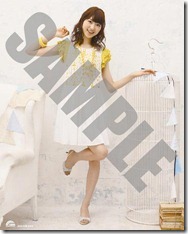 The lottery application card provides the chance to be selected for bonuses,
A. 10 persons premium video Q&A with Haruka Tomatsu.
B. 50 persons autographed "Q&A Recital!" poster.
C. 100 persons autographed Q&A card from Haruka Tomatsu.
D. all applicants special mobile phone award.
Enjoy the trailer video for anime Tonari no Kaibutsu-kun below the release details…
Haruka Tomatsu – "Q&A Recital!" – release date October 17th 2012
Limited [CD+DVD] (¥1800)


Regular [CD] (¥1300)


[CD]
1. Q&A Recital!
2. Donut
3. Q&A Recital! (off vocal)
[DVD]
1. Q&A Recital! (music video)
[CD]
1. Q&A Recital!
2. Donut
3. Q&A Recital! (off vocal)
Tonari no Kaibutsu-kun airs beginning October 1st
Tonari no Kaibutsu-kun Official website (TV Tokyo)
Tonari no Kaibutsu-kun Official website (TK anime)