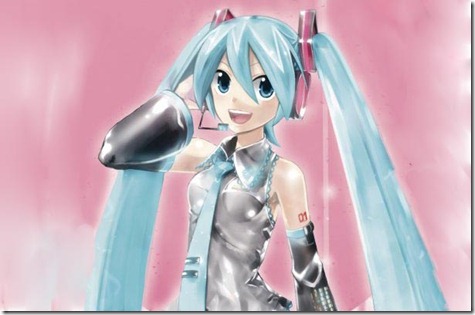 ~ updated release information – jump ~
Hatsune Miku has two albums set for simultaneous release – "5th Birthday BEST ~ memories ~" and "5th Birthday BEST ~impacts~". The albums, which are a Sony Music release, are a compilation of many of her most important songs released over the past 5 years  – such as what is still one of the very best – "melt" by supercell. Release date for both is set for August 1st – more early release details follow.
Crypton Future Media released the Vocaloid software featuring the character/voice named Hatsune Miku on August 31st 2007 which started it all. Similar titled albums "Hatsune Miku Best ~memories~" and "Hatsune Miku Best ~impacts~" were released in 2009 and DVD compilation versions with similar titles in 2010.
Both 5th anniversary albums are tentatively announced each to have 19 tracks plus a bonus DVD with 7 music videos. The music videos included are Hall of Fame ones with several million plays each on NicoNico Douga. First Press versions of both albums will include special packaging and photo disks.
Cover jackets are official but the track list has only a few songs listed so far and it should be updated in the next few weeks – come back to Comtrya Sugoi for the updates.
Enjoy the videos for "melt" and "Hello, Planet" below the release details…
Hatsune Miku – "5th Birthday BEST ~memories~" & "5th Birthday BEST ~impacts~" – release date August 1st 2012
"Memories" [CD+DVD] (¥2800)


"Impacts" [CD+DVD] (¥2800)


[CD]
1. melt (supercell)
2. FREELY TOMORROW (Mitchie M)
3. Hello, Planet (sasakure.UK)
4-19. tba
[DVD]
1-7. tba
[CD]
1-19. tba
[DVD]
1-7. tba
Hatsune Miku – Hello, Planet – composed by sasakure.UK
Hatsune Miku – melt – composed by supercell/ryo original PV with animation by studio Gonzo starting 3:30
Via: natalie