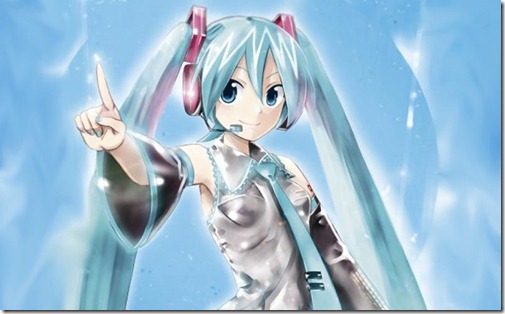 Hatsune Miku has two anniversary albums – "5th Birthday BEST ~ memories ~" and "5th Birthday BEST ~impacts~" scheduled for simultaneous release on August 1st. We previously announced the album releases and now the full track list is official. The albums, which are a Sony Music release, celebrate the virtual idol's popular songs released over the past 5 years. Updated details follow.
Our favorite Hatsune Miku song is "World is Mine" from supercell (ryo) which isn't included on either compilation album. But one of the most popular, also from supercell (ryo), "melt" is included.
Enjoy both songs and videos at bottom of article….
Each of the 5th anniversary albums have 19 tracks plus a bonus DVD with 7 music videos. First Press versions of both albums will include special packaging, photo disk, and stickers.
Hatsune Miku – "5th Birthday BEST ~memories~" & "5th Birthday BEST ~impacts~" – release date August 1st 2012
"Memories" [CD+DVD] (¥2800)


"Impacts" [CD+DVD] (¥2800)


[CD]
1. Tell Your World
2. 39
3. melt (supercell)
4. FREELY TOMORROW (Mitchie M)
5. Kageroudeizu
6. Romeo to Cinderella
7. Klectreic Love feat. Hatsune Miku
8. Shiroi Yuki no Princess wa
9. Sandoriyon (Cendrillon)
10. Shinkai Shoujo
11. Hello, Planet (sasakure.UK)
12. BadBye
13. Mukashi Mukashi no Kyou no Boku
14. Watashi no Jikan 2012
15. Kasou Kyoku
16. Saihate
17. 1925
18. Hajimetenoto
19. Birthday Song for Miku
[DVD]
1. 39
2. Birthday Song for Miku
3. Sekiranun Graffiti
4. Mukashi Mukashi no Kyou no Boku
5. Baby Maniacs feat. Hatsune Miku
6. SPiCa
7. VOiCE
[CD]
1. 39
2. Miku Miku ni Shiteageru
3. Matoryoshika
4. Hatsune Miku no Shoushitsu
5. Senbonzakura
6. Uraomote Lovers
7. Sakura n ame
8. Koisuru Vocaloid
9. Yokkora Sex
10. Nyanyanyanyanyanyanay!
11. Torino City
12. Envy Cat Walk
13. Netga Naijin Shupurehiko-ru
14. Kasare Gedou to Chocolate
15. Nijigen Dream Fever
16. Akatsuki Arrival
17. Hayabusa
18. Shinpakusu #822
19. Birthday Song for Miku
[DVD]
1. 39
2. Birthday Song for Miku
3. Kageroudeizu
4. LOL – lots of laugh-
5. Nijiigen Dream Fever
6. Chaining Intension
7. 3331
Hatsune Miku – melt – composed by supercell/ryo original PV with animation by studio Gonzo starting 3:30
supercell feat. Hatsune Miku – "World is Mine" – from 2008