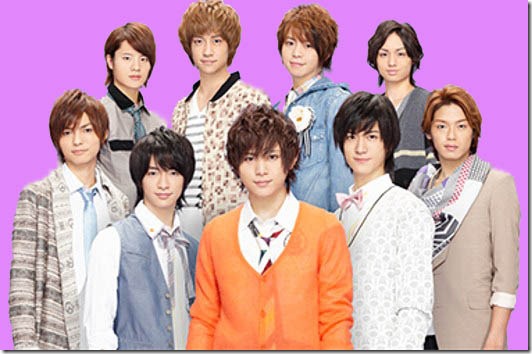 Hey! Say! JUMP has just announced their 2nd album (not yet titled) and set for release on June 6th. Its been about two years since the group released their first album "JUMP NO. 1" and their fans have been waiting in much anticipation. The album comes in two editions a Limited and a Regular which will include their singles "SUPER DELICATE", "Magic Power", "OVER", and "'Arigato' ~Sekai no Doko ni Ite mo" as well as a bunch of new songs and bonus tracks – 14 total for Limited and 15 total for the Regular. Early release details follow,
The Limited edition includes a bonus DVD with off-shoot footage from the jacket cover photo shoot and album recording sessions and a 40 page photo booklet. The Regular edition has a different track list and a bonus track of messages from the group.
First Press editions are tentative and no bonuses announced yet.
The group also announced tour "Hey! Say! JUMP FIRST ASIA TOUR 2012" with dates for 10 performances at Yokohama Arena starting May 3rd – May 9th. They'll also have 4 performances in Hong Kong over the weekend of May 26th-27th (originally scheduled for March 24th-25th).
The release details are still early – no jacket covers or title yet for the album. The track list order is also tentative. Check back to Comtrya Sugoi for updates when announced.
Hey! Say! JUMP – 2nd album title to be announced – release date June 6th 2012
Limited [CD+DVD] (¥3000)


Regular [CD] (¥2700)



[CD]
1. 'Arigato'~Sekai no Doko ni Ite mo
2. OVER
3. Magic Power
4. SUPER DELICATE
5. Perfect Life (new song)
6. Hurry up! (new song)
7. Tsunagu Te To Te (new song)
8. Sam & Pinky (new song)
9. Boku wa  Vampire (new song)
10. Hero (new song)
11. Together forever (new song)
12. Uta Utau (first time on CD/Hey! Say! 7)
13. Spicy (first time on CD/ Hey! Say! BEST)
14. Endless Dream (first time on CD)
[DVD]
1. Recording (off shoot)
2. Jacket photo shoot (off shoot)

[CD]

1. 'Arigato'~Sekai no Doko ni Ite mo
2. OVER
3. Magic Power
4. SUPER DELICATE
5. Perfect Life (new song)
6. Hurry up! (new song)
7. Tsunagu Te To Te (new song)
8. Sam & Pinky (new song)
9. Boku wa Vampire (new song)
10. Hero (new song)
11. Together forever (new song)
12. Hana Egao (new song/Hey! Say! 7)
13. Snap (new song / Hey! Say! BEST)
14. Single Medley 〜orchestra version〜 (tentative)
15. Hey! Say! JUMP (message from members)
Hey! Say! JUMP Official website (Johnny's net)