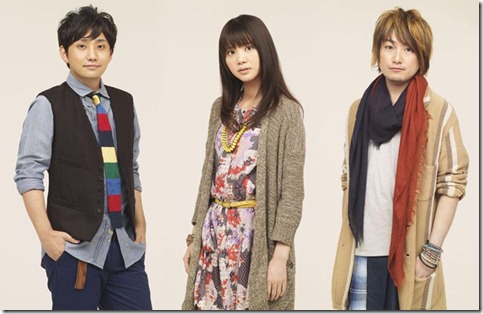 Ikimonogakari recently updated the release details for their new album "Balladon" which is a collection of their best ballad songs. The new album includes their newest single "Kaze ga Fuite Iru" in its original version and a new version recorded in the UK plus more for a total of 13 songs. "Balladon" comes in two editions and hits stores on December 19th – read on the updated release details.
Ikimonogakari which consists of childhood friends Yamashita Hotaka and Mizuno Yoshiki plus lead vocalist Yoshioka Kiyoe, formed in 1999 but paused in 2000 to focus on college entrance exams. They resumed playing in 2003 and caught the attention of their current manager who helped them launch a tour and their first indie album. In 2006 their made their major label debut with single "Sakura" and have since released a total of 24 singles and 5 original albums (the last 3 charting #1 on Oricon).
Ikimonogakari is nearing the end of the half-year long major venue national tour "TOUR 2012 ~ NEWTRAL ~" which began back in April and has sold out every performance. They recently added additional performances including two at Yokohama Arena and their final at Osaka Castle Hall on November 23rd. More details are available at the tour's special website (link at bottom).
NHK TV is broadcasting an Ikimonogakari documentary that covers eight months of this year and the group's journey during their UK national tour, the London Olympics, and their official theme song "Kaze ga Fuite Iru" for the NHK Olympics broadcast. The first hour airs on NHK BS Premium Dec. 22nd 11:30pm and the second hour Dec. 29th 11:30pm. Following those broadcasts on December 30th 11:30pm NHK will air "Ikimonogakari Live" – the 90min show captures their recent tour performance at Yokohama Arena.
Ikimonogakari's new album "Balladon" comes in two editions,
– Limited with bonus goods (muffler towel) and Ikimono card 031
– Regular CD-only. First Press version adds Ikimono card 031
Bonus muffler towel sample image (click to enlarge):

Ikimonogakari – "Balladon" – release date December 19th 2012
Limited [CD] (¥3200)


Regular [CD] (¥2800)


[CD]
1. Kaze ga Fuite Iru (new version recorded in UK)
2. Kaze ga Fuite Iru
3. Aruite Ikou
4. Arigato
5. Ashita e Mukau Kaerimichi
6. YELL
7. Futari
8. Kokoro no Hana o Sakaseyou
9. Planetarium
10. Kaeritakunattayo
11. Akaneironoyakusoku
12. Koisuruotome
13. SAKURA
[bonus]
Muffler towel and Ikimono card 031
[CD]
1. Kaze ga Fuite Iru (new version recorded in UK)
2. Kaze ga Fuite Iru
3. Aruite Ikou
4. Arigato
5. Ashita e Mukau Kaerimichi
6. YELL
7. Futari
8. Kokoro no Hana o Sakaseyou
9. Planetarium
10. Kaeritakunattayo
11. Akaneironoyakusoku
12. Koisuruotome
13. SAKURA
Ikimonogakari TOUR NEWTRAL 2012