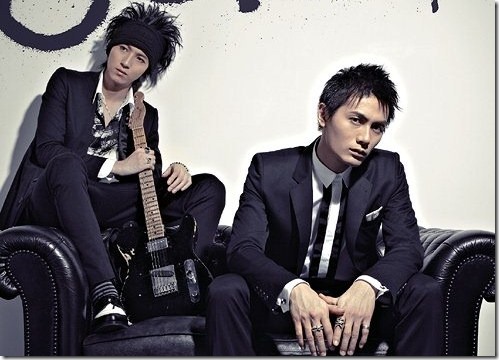 JOKER will release their first mini-album, the self-titled "JOKER" on May 2nd. JOKER made their debut with single release "No. 1" on December 7th 2011 and consists of duo singer/actor Kazuki Kato and guitarist Koji Date. The unit's song style is described as "pleasant digital rock". We previously posted early release details on the mini-album and more complete details follow,
The mini-album has 6 song tracks total and the song "Pain" is featured as the image song of drama "Recipient" and written by Tetsyta Komuro. This track was pre-released via Chaku-Uta Full and mu-mo back on February 29th and they also released a preview of the music video for song "Liar".
The mini-album comes in three editions: a Limited A with bonus DVD that includes the music video and off-shoot footage for "Liar"; a Limited B with bonus DVD with interview footage of JOKER; and a Regular CD-only version with bonus 7th track.
First Press editions for each add a photo (1 of 3) and entry ticket for drawings – signed accessory and entry to special event.
Video preview for track "Liar" follow below the release information.
JOKER – "JOKER" – release date May 2nd 2012.
Limited A [CD+DVD] (¥2730)


Limited B [CD+DVD] (¥2520)


[CD]
1. Liar
2. Stand up!
3. Fire Soul
4. Last Letter
5. Summer Breeze
6. Pain 
[DVD]
1. Liar (music video)
2. Liar (off shoot)
[CD]
1. Liar
2. Stand up!
3. Fire Soul
4. Last Letter
5. Summer Breeze
6. Pain
[DVD]
1. JOKER members interview
2. JOKER members interview (off shoot)
Regular [CD] (¥2100)


[CD]
1. Liar
2. Stand up!
3. Fire Soul
4. Last Letter
5. Summer Breeze
6. Pain
7. Fire Sour feat. Takuya Ide
JOKER first mini-album "JOKER" – release date May 2nd 2012