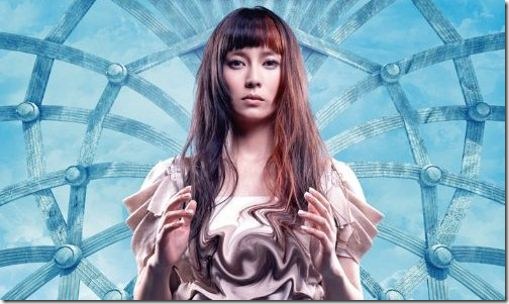 Kou Shibasaki has her 25th single "ANOTHER:WORLD" announced for release on June 13th. The single is featured as theme song for TV drama "Mirai Nikki ~ ANOTHER:WORLD ~" which stars Okada Masaki. Nawata Hisahi who collaborated on her previous single "Strength" (release details) is also composer for this single and lyrics are by Shibasaki herself. Preview music video and more release details follow,
Kou Shibasaki is also a popular actress and will appear in upcoming movie – "47RONIN" – that stars Keanu Reeves and featuring Jin Akanishi. The movie premiers December 2012 – Official website.
Her second single of 2012 and part of her 10th year anniversary since her major label debut comes in two editions:
– Limited with bonus DVD that includes music video for title track. Application card for lottery of special photos of Shibasaki. Special 3D packaging (video below showing the cover)
– Regular CD-only with bonus remix CD track.
First Press versions of both editions offer a poster bonus (while supplies last), and Regular also adds the Limited edition's lotter card for special photo.
Preview video for "ANOTHER:WORLD" and video of the 3D Limited edition cover follows after the release details…
Kou Shibasaki – "ANOTHER:WORLD" – release date June 13th 2012d
Limited [CD+DVD] (¥1680)


Regular [CD] (¥1260)


[CD]
1. ANOTHER:WORLD
2. Adorasutia no Teikou
3. ANOTHER:WORLD (off vocal)
[DVD]
1. ANOTHER:WORLD (music video)
[CD]
1. ANOTHER:WORLD
2. Adorasutia no Teikou
3. ANOTHER:WORLD ~ANOTHER:FUTURE Remix~
4. ANOTHER:WORLD (off vocal)
Kou Shibasaki – "ANOTHER:WORLD" – 3D jacket cover Limited edition release date June 13th 2012
Kou Shibasaki – "ANOTHER:WORLD" – release date June 13th 2012