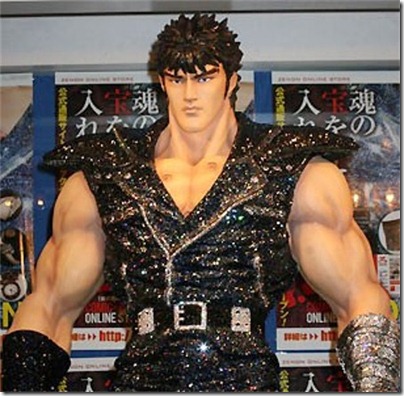 A big fan of manga/anime Fist of the North Star has won via Yahoo Japan auction a life-size figure (185 cm) of main character Kenshiro with a winning bid of ¥3,000,000 (approx. $39,000). A huge bid but the life-size Kenshiro is dressed in 500,000 crystals made by world renowned Swarovski. Also 10% of the auction bid will be going to the Japanese Red Cross Society and their efforts in the affected areas of the great eastern earthquake. More details follow,
The Yahoo auction transpired this past December as part of a promotion by Comic-Zenon online store and the Monthly Comic Zenon magazine who sponsored the custom-made Kenshiro figure. Figure maker Kaiyodo produced the figure with supervision from Fist of the North Star's creator Hara Tetsuo. A team of 10 designers spent 3 months applying the 500,000 Swarovski crystals.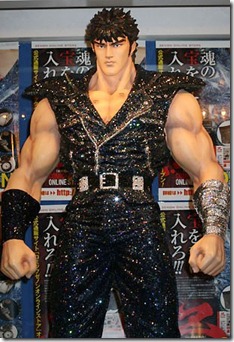 The winning bidder from Fujieda City in Shizuoka Prefecture is described as a self-employed family man in his 40's. "I'll make this Kenshiro a family heirloom" he stated. He further commented that the whole family is Fist of North Star fans and that his wife did give her consent before he bid on the auction. He is also planning to build a special acrylic case for the living room to protect the figure from dust and earthquakes.
Perhaps he got an auction bargain as the 500,000 Swarovski crystals are stated as having a market value of ¥10 million (approx. $131,000).
Source: Matanweb