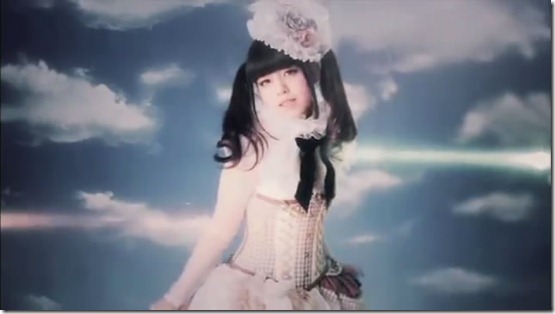 Luna Haruna has updated the release details for her 2nd single "Overfly"  – cover jackets and more are details are now revealed. Her 2nd single will be featured starting today as the second ending theme for popular anime Sword Art Online. "Overfly" is composed, arranged, and lyrics provided by Saku (early information was incorrect that Yuki Kajiura would collaborate on the new single). Single "Overfly" comes in three editions and hits stores November 28th – read on for more details and audio preview.
Luna Haruna (20) has modeled for magazine "KERA" and announced her presence as a singer when she was a finalist in the 4th Anison Grand Prix. Her debut song "Sora wa Takaky Kaze wa Utau" was a collaboration with Yuki Kajiura, released May 2nd and was featured as the ending theme for anime Fate/Zero season 2.
The new opening theme for Sword Art Online has also been announced, Eir Aoi will provide it with her 3rd single "INNOCENCE" – more details here.
The first opening theme song for Sword Art Online is LiSA's "crossing field" and the first ending theme song is "Yume no Sekai" by Haruka Tomatsu (Tomatsu also voice's lead heroine Asuna).
Anime Sword Art Online is adapted from light novels by Reki Kawahara who also provided the novels for Accel World. The first season followed the story of ordinary game players who have become trapped inside an online virtual reality game. Dying in the game means death in real-life also. Now they all must fight to end the game and free themselves. Season two picks up the story with some new characters and some changes…
The anime began airing July 7th in Japan on station Tokyo MX and starts its second season October 13th. Outside of Japan is simulcast same day at Crunchyroll – check out our Crunchyroll updates page for summaries and links to all available shows or hit the link for Sword Art Online for episodes and related stories.
"Overfly" comes in three editions,
– Limited with bonus Blu-ray with music video and making-of footage.
– Limited anime themed with bonus DVD that includes music video and animation video. CD track list differs. This version is only available until December 31st 2012.
– Regular CD-only.
Folks on the Chaku-Uta digital delivery network can download 6 different versions of the single starting October 20th – link at bottom.
Luna Haruna – "Overfly" – November 28th 2012
Limited [CD+BD]  (¥1700)


Limited Anime [CD+DVD]  (¥1500)


[CD]
1. Overfly
(preview)
2. Inori
3. Maho no Shiro
4. Overfly (off vocal)
[DVD]
1. Overfly (music video)
2. Overfly (off shoot)
[CD]
1. Overfly
2. Inori
3. Maho no Shiro
4. Overfly (TV size)
[DVD]
1. Overfly (music video)
2. Overfly (Sword Art Online themed music video)
Regular [CD]  (¥1200)


[CD]
1. Overfly
2. Inori
3. Maho no Shiro
4. Overfly (off vocal)
* updated with release date, track list, and pre-order links.
Sword Art Online Official website
Luna Haruna Rekochoku Chaku-Uta