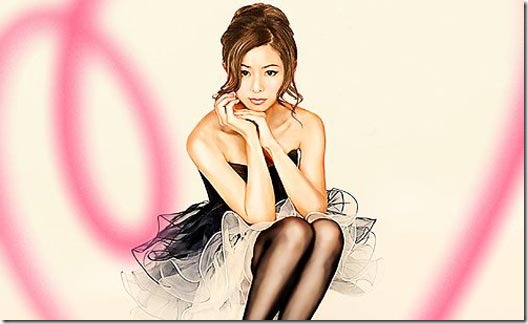 New single release from Kuraki Mai – a double-A side release "Koi ni Koshite / Special morning day to you". Track "Koi ni Koshite" is featured as the ending theme of anime series Detective Conan and track "Special morning day to you" has CM tie-in with drink product "ICEFIELD". The single, Kuraki's 38th, is offered in two editions and hits stores August 15th. More details and CM video spots for "ICEFIELD" follow.
Collaborating on the song "Koi ni Koshite" is Giorgio 13 (Giorgio Cancemi) as composer and with Kuraki Mai on lyrics. Kuraki Mai is featured on Girogio Cancemi "NERDHEAD" project's latest release "CRUISE WITH YOU", providing the vocals for one of the songs – more release details posted here.
For her CM tie-in with bottled water "ICEFIELD", Kuraki Mai is providing the theme song "Special morning day to you". Kuraki provided the lyrics for this song and collaborated with Tokunaga Akihito who arranged/composed the song. Not stopping there Kuraki is also the featured actress appearing in the CM spots.
Video spot #1 and making-of video featuring Kuraki Mai and song "Special morning day for you" can be viewed at the bottom of the article!
Also Kuraki Mai has a simultaneous release on August 15th, a live DVD from her "Mai Kuraki Live Tour 2012 ~OVER THE RAINBOW~". The DVD has footage from her performance March 24th 2012 at Tokyo International Forum Hall A.
No additional bonuses are yet announced for her new single but check back to Comtrya Sugoi for updates
Kuraki Mai – "Koi ni Koishite / Special morning day to you" – release date August 15th 2012
Limited [CD+DVD] (¥1365)

Back cover:


Regular [CD] (¥1050)

Back cover:


[CD]
1. Koi ni Koshite
2. Special morning day to you
3. Koi ni Koshite (off vocal)
4. Special morning day to you (off vocal)
[DVD]
1. Koi ni Koshite (music video)
2. "ICEFIELD" CM Spot 1,2 & 3
[CD]
1. Koi ni Koshite
2. Special morning day to you
3. Koi ni Koshite (off vocal)
4. Special morning day to you (off vocal)
ICEFIELD bottled water CM spot featuring Kuraki Mai and her song Special morning day to you
Making-of offshoot footage for ICEFIELD CM spots
ICEFIELD x Kuraki Mai special webstie