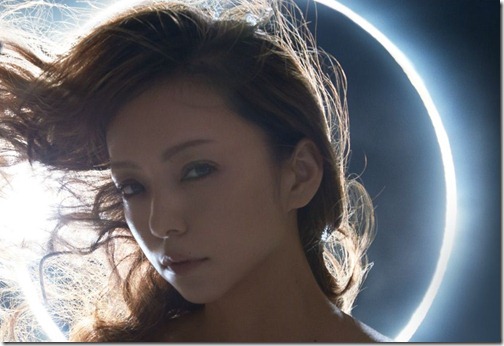 Namie Amuro has exposed a special digest music video for the 11 music videos included on her new album "Uncontrolled". The album, a part of commemorating her music industry 20th anniversary, is set to hit stores on June 27th. Previously posted articles here on the details for Amuro's 15th album and a time-lapse video of a multi-day live billboard painting by three artists in Shinjuku for the album's promotion. The new digest video and album information follows.
"Uncontrolled" comes in two editions plus a special PLAYBUTTON version:
– Limited with bonus DVD that includes 11 music videos.
– Regular CD-Only edition.
– PLAYBUTTON – mini-OGG player in the shape of a small, wearable button. Same track list as Limited and Regular is pre-installed and no additional songs can be added. Comes with USB connection and re-chargeable battery. Headphones not included. Available from limited outlets (¥1980).
Namie Amuro has also announced 5 previous albums will be available on the new PLAYBUTTON format (available at selected stores in Japan):
| | |
| --- | --- |
| ■ "Queen of Hip-Pop" | ■ "PLAY" |
| ■ "BEST FICTION" | ■ "PAST <FUTURE" |
| ■ "Checkmate!" |   |
Digest music video follows below the album release information…
Namie Amuro – "Uncontrolled" – release date June 27th 2012
Limited [CD+DVD] (¥3990)


Regular [CD] (¥3150)


[CD]
1. ONLY YOU (new song)
2. Hot Girls (new song)
3. In The Spotlight (Tokyo) (new song)
4. Let's Go (new song)
5. Go Round
6. YEAH-OH
7. Sit! Stay! Wait! Down!
8. Love Story
9. NAKED
10. Fight Together
11. Tempest
12. Break It
13. Get Myself Back
[DVD] (Music Videos)
1. ONLY YOU
2. Hot Girls
3. In The Spotlight (Tokyo)
4. Let's Go
5. Go Round
6. YEAH-OH
7. Love Story
8. NAKED
9. Tempest
10. Break It
11. Get Myself Back
[CD]
1. ONLY YOU
2. Hot Girls
3. In The Spotlight (Tokyo)
4. Let's Go
5. Go Round
6. YEAH-OH
7. Sit! Stay! Wait! Down!
8. Love Story
9. NAKED
10. Fight Together
11. Tempest
12. Break It
13. Get Myself Back
Namie Amuro – Uncontrolled – new album release date June 27th 2012