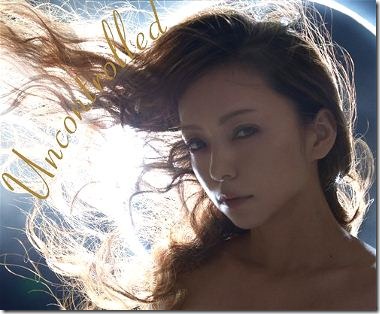 Namie Amuro's recently titled new album "Uncontrolled" now has its jacket covers revealed and TV spot video exposed. Previously we posted an article on her new album before it was titled but with details on the track list which include nine previously released singles plus four new songs for 13 total tracks. Namie Amuro's 15th full-length album is part of her 20th anniversary since her debut release and its due out June 27th. Updated release details with the jacket covers and the TV spot video follow,
Also recently announced that "ONLY YOU", one of the new songs on the album, has been selected as theme song for the European Football Championship broadcast on WOWOW.
"Uncontrolled" comes in two editions plus a special "PLAYBUTTON" version:
– Limited with bonus DVD that includes 11 music videos.
– Regular CD-Only edition.
– PLAYBUTTON – mini-OGG player in the shape of a small, wearable button. Same track list as Limited and Regular is pre-installed and no additional songs can be added. Comes with USB connection and re-chargeable battery. Headphones not included. Available from limited outlets (¥1980).
First Press versions of the Limited and Regular editions offer bonuses of special packaging and a B2-size poster.
TV spot video follows after the updated release details…
Namie Amuro – "Uncontrolled" – release date June 27th 2012
Limited [CD+DVD] (¥3990)


Regular [CD] (¥3000)


[CD]
1. ONLY YOU (new song)
2. Hot Girls (new song)
3. In The Spotlight (Tokyo) (new song)
4. Let's Go (new song)
5. Go Round
6. YEAH-OH
7. Sit! Stay! Wait! Down!
8. Love Story
9. NAKED
10. Fight Together
11. Tempest
12. Break It
13. Get Myself Back
[DVD] (Music Videos)
1. ONLY YOU
2. Hot Girls
3. In The Spotlight (Tokyo)
4. Let's Go
5. Go Round
6. YEAH-OH
7. Love Story
8. NAKED
9. Tempest
10. Break It
11. Get Myself Back
[CD]
1. ONLY YOU
2. Hot Girls
3. In The Spotlight (Tokyo)
4. Let's Go
5. Go Round
6. YEAH-OH
7. Sit! Stay! Wait! Down!
8. Love Story
9. NAKED
10. Fight Together
11. Tempest
12. Break It
13. Get Myself Back
Namie Amuro – Uncontrolled – June 27th 2012