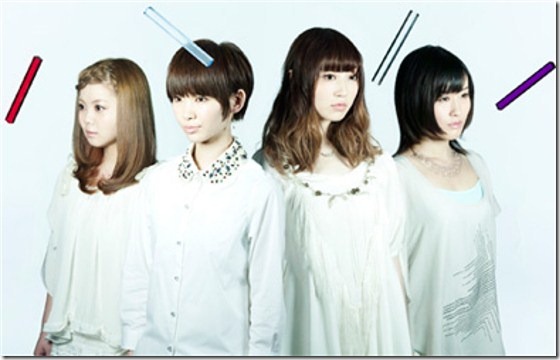 Negoto new single "sharp♯" was previously announced here and we've got updated release details. Featured as the second opening theme to anime Mobile Suit Gundam AGE (eps 16-30) it is set for release on April 4 2012. The pop-alt rock single comes in a Limited Pressing edition with special anime inspired jacket cover and a Regular CD edition – each edition also has a different track list. Full release details follow,
The Regular edition includes a pair of coupling tracks "drop" and "Tonight" which is as song by the THE CRIBS that Negoto covered live. The Limited Pressing adds a new version of their hit song "Charon", a remix of the title track by tofubeats, and the TV-size version of the title track.
Mobile Suit Gundam AGE will switch opening themes at episode 30 to a new single "Real" from visual-kei band ViViD.
Negoto – "sharp#" – April 4th 2012
Limited Pressing [CD] (¥1365)


Regular [CD] (¥1200)


[CD]
1. sharp#
2. Charon
3. sharp# (tofubeats remix)
4. sharp# (TV size)
5. sharp# (off vocal)
[CD]
1. sharp#
2. drop
3. Tonight
Negoto has planned a 4-stop Students only tour to support the single release being April 6th and a second 3-stop general tour being May 3rd in Osaka.
Pokan your mouth?! Student only tour ~ end of studenTOUR ~
April 6, 2012 (Friday) RIPS, Hachioji, Tokyo – OPEN18:30 / START 19:00
April 8, 2012 (Sun) Sun and Tiger, Kobe, Hyogo – OPEN 17:30 / START 18:00
April 15, 2012 (Sun) DRUM SON Fukuoka – OPEN 17:30 / START 18:00
April 21, 2012 (Sat) cube garden in Sapporo, Hokkaido – OPEN 17:30 / START 18:00
Tickets available beginning February 18, 2012
Pokan your mouth?! – feel good one-man tour-flat
May 3, 2012 (Thu.) BIG CAT Osaka Shinsaibashi
May 4, 2012 (Fri) CLUB DIAMOND HALL Aichi
May 12, 2012 (Sat) SHIBUYA-AX, Tokyo
Tickets available beginning March 17, 2012