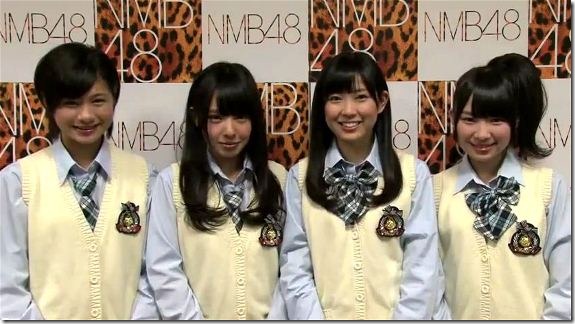 NMB48 has exposed three videos with members discussing their new single "Nagiichi" (release details) which is due out on May 9th. They talk about making the music video on Okinawa and their favorite dance moves used in the video. The sister group to AKB48 based in Osaka is hoping for another #1 charting single for their 4th release after their first three all sold over 200,000 copies and ranked #1 on the Oricon weekly singles charts. The videos follow,
NMB48 has been busy posting videos – check out our previous article with the full length music videos for all four of NMB48's singles including the upcoming 4th  "Nagiichi", "Junjou U-19" (3rd), "Oh My God!" (2nd), and "Zetsumetsu Kurokami Shoujo" (1st).
The group also posted the preview videos for two coupling tracks on the new single "Nagiichi" – "Saigo no Katarushisu" and "Boku ga Mosukoshi Daitan Nara" which are on the Limited A & B editions respectively.
NMB48 member: Watanabe Miyuki talks about Nagiichi and her first solo song (!?)

NMB48 members: Yamamoto Sayka, Fukumoto Aina, Jo Eriko
NMB48 members: Tanigawa Airi, Yamada Nana, Watanabe Miyuki, Ogasawara Mayu
NMB48 Official YouTube channel