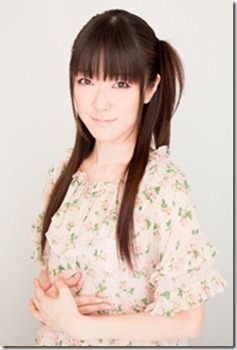 Voice actress Rie Kugimiya has announced her first mini-album of songs "Kokohadoko" and set the release date for June 20th. The album features songs from Kugimiya that she has produced over the past 2 years. Preliminary track list has 6 tracks but none are officially announced yet. The album will be offered in two editions and will include bonuses such as DVD and a ticket for album release event. More early release details follow,
The album is offered in two editions:
– Limited with bonus DVD that is announced to include music video and off-shoot footage all shot in England, photo booklet, special packaging. Event ticket for album release event.
– Regular with bonus DVD that is announced to include music video similar to Limited. First Press version includes event ticket.
Rie Kugimiya has voiced many anime rolls – known as the "Queen of Tsundere" for her many rolls as a tsundere character (young strong/tough girls with an underlying sweet side). Just a few of her rolls: Nagi (Hayate Combate Butler), Shana (Shakugan no Shana), Alphonse Elric (FMA), Kagura (Gintama), and Happy (Fairy Tail).
Kugimiya has released many anime character song singles and albums but not a straight song album like this previously.
Release details on her album are still very early so check back to Comtrya Sugoi for updates.
Rie Kugimiya – "Kokohadoko" – release date June 20th 2012
Limited [CD+DVD] (¥3300)


Regular [CD+DVD] (¥3000)


[CD]
1. tba
2. tba
3. tba
4. tba
5. tba
6. tba

[DVD]
1. tba (music video shot in England)
2. tba (off shoot video shot in England)

[CD]
1. tba
2. tba
3. tba
4. tba
5. tba
6. tba