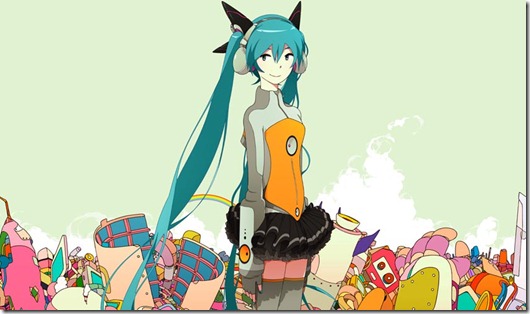 ryo has updated the release information for the new single "ODDS&ENDS" feat.Hatsune Miku – the full track list has now been revealed. ryo, the leader of group supercell, wrote the new single to be used as the opening theme for Sony PSP Vita game "Hatsune Miku Project DIVA-f". He previously provided the theme song for the first "Hatsune Miku Project DIVA" game with single "Sekiranun Graffiti" one year ago. Also SEGA has exposed a new preview video with the opening movie for the new game and featuring the new single. The single is set to hit stores on August 29th – updated details and preview video follow.
ryo (supercell) is well known for producing songs featuring Vocaloid virtual idol Hatsune Miku. such as "melt", "Black★Rock Shooter", and "The World is Mine". On the new album "5th Birthday BEST ~memories~" celebrating the 5 year anniversary of the creation of Hatsune Miku, ryo has "melt" and "Sekiranun Graffiti" featured.
As a result of his efforts ryo been able to expand into providing full soundtrack music for anime series such as Guilty Crown and working with vocalists Nagi, Koeda and ClariS.
The new game "Hatsune Miku Project DIVA-f" from SEGA is available for the PSP Vita and scheduled for release on August 30th. New preview video featuring the opening movie and song "ODDS&ENDS" and game play follows below the updated release details for the single.
The new single "ODDS&ENDS" has cover jackets illustrated by Atsuya Uki who also provided the cover for ryo's single "Sekiranun Graffiti" that was used as the theme song for the first Project DIVA game. The Limited editions include bonus papercraft of Hatsune Miku,
– Limited A with bonus Blu-ray (BD) that includes a pair of music videos and papercraft (photo below).
– Limited B with bonus DVD – contents and bonuses similar to Limited A Blu-ray.
– Regular CD-only.
Hatsune Miku Graphig papercraft (click to enlarge):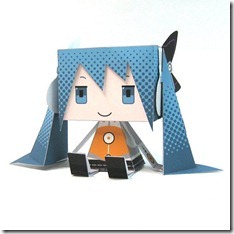 ryo (supercell) – "ODDS & ENDS feat. Hatsune Miku" – release date August 29th 2012
Limited A [CD+BD] (¥1995)


Limited B [CD+DVD] (¥1785)


[CD]
1. ODDS&ENDS (ryo feat. Hatsune Miku)
2. Sky of Beginning (Jin feat. Hatsune Miku) 
3. ODDS&ENDS (off vocal)
4. Sky of Beginning (off vocal)
[BD]
1. ODDS&ENDS (music video)
2. Sky of Beginning (music video)
[CD]
1. ODDS&ENDS (ryo feat. Hatsune Miku)
2. Sky of Beginning (Jin feat. Hatsune Miku)
3. ODDS&ENDS (off vocal)
4. Sky of Beginning (off vocal)
[DVD]
1. ODDS&ENDS (music video)
2. Sky of Beginning (music video)
Regular [CD] (¥1050)


 
[CD]
1. ODDS&ENDS (ryo feat. Hatsune Miku)
2. Sky of Beginning (Jin feat. Hatsune Miku)
3. ODDS&ENDS (off vocal)
4. Sky of Beginning (off vocal)
 
Hatsune Miku Project DIVA-f Official site (SEGA)