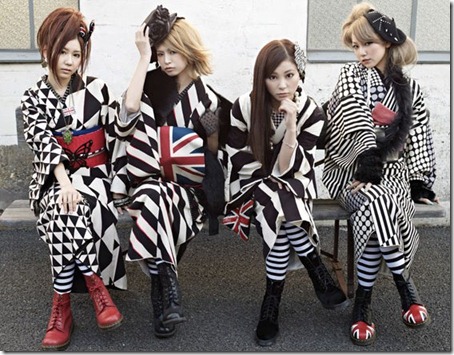 SCANDAL has revealed the jacket covers and fashion look for their best hits album "Show". The look for "Show" is another statement from them as is their upcoming single "HARUKAZE".  The album's release on March 7th just two weeks after single "HARUKAZE" drops on February 22nd. Jacket covers and release details follow,
Prior to the release SCANDAL will invite 200 fans each to one of two "SCANDAL Best Album 'SCANDAL Show' Release Listening Party" events. Each set of 200 will be selected from "Utatomo" members (cell provider au's "LISMO" SNS service) to the event in Osaka on February 29th and the event in Tokyo on March 5th (locations not released). Entry deadline is February 22nd.
Rina (Dr,Vo), Haruna (Vo,G), Mami (G,Vo), Tomomi (Bas,Vo) can make any fashion look good.
SCANDAL – "Show" – release date March 7th 2012
Limited Release [CD+Photobook] (¥4200)


Limited [CD+DVD] (¥3500)


[CD]
1. HARUKAZE
2. Shoujo S
3. DOLL
4. BEAUTeen!!
5. Taiyou to Kimi ga Egaku STORY
6. LOVE SURVIVE
7. Pride
8. Switch
9. Shunkan Sentimental
10. Haruka
11. SCANDAL Nanaka Buttobase
12. EVERYBODY SAY YEAH!
13. Kagerou
14. SAKURA Goodbye
15. SCANDAL BABY
16. SCANDAL no Te-ma
[Bonus]
Photobook
[CD]
1. HARUKAZE
2. Shoujo S
3. DOLL
4. BEAUTeen!!
5. Taiyou to Kimi ga Egaku STORY
6. LOVE SURVIVE
7. Pride
8. Switch
9. Shunkan Sentimental
10. Haruka
11. SCANDAL Nanaka Buttobase
12. EVERYBODY SAY YEAH!
13. Kagerou
14. SAKURA Goodbye
15. SCANDAL BABY
16. SCANDAL no Te-ma
[DVD]
1. Asia Tour 2011 Documentary
Regular [CD] (¥3000)


 
[CD]
1. HARUKAZE
2. Shoujo S
3. DOLL
4. BEAUTeen!!
5. Taiyou to Kimi ga Egaku STORY
6. LOVE SURVIVE
7. Pride
8. Switch
9. Shunkan Sentimental
10. Haruka
11. SCANDAL Nanaka Buttobase
12. EVERYBODY SAY YEAH!
13. Kagerou
14. SAKURA Goodbye
15. SCANDAL BABY
16. SCANDAL no Te-ma
 
Source: natalie