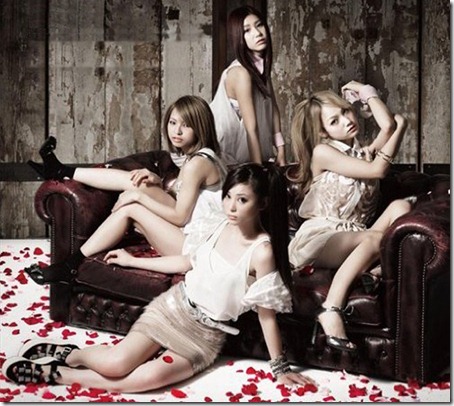 SCANDAL's new single "HARUKAZE" was announced back on September 20th 2011 and is finally getting close to release on February 22nd 2012. The single comes in three editions, two Limited that each feature a different coupling track that are covers of anime BLEACH opening theme songs, and the regular edition with just the title track. Jacket covers and more details follow,
The jacket covers are quite a new look for Haruna (Vo,G), Mami (G,Vo), Tomomi (Bas,Vo), Rina (Dr,Vo) – the four girl band SCANDAL has usually used an edgy school girl fashion – a bit more blond and not so school-girl look but its good.
The title track "HARUKAZE" started being featured as the opening theme to popular anime BLEACH on its 343rd episode October 11, 2011 and still has another 9 episodes to go for its 25 episode run ending March 20th.
The Limited edition A's coupling track is Aqua Timez's "ALONES" which was featured as the #6 (121-143) BLEACH opening theme and Limited edition B's is ORANGE RANGE's "*~Asterisk" that was featured as the first (1-25) BLEACH opening theme.
SCANDAL – "Harukaze" – release date February 22th 2012
Limited A [CD] (¥1020)


Limited B [CD] (¥1020)


[CD]
1. HARUKAZE
2. ALONES (Aqua Timez Cover)
3. HARUKAZE (off vocal)
[CD]
1. HARUKAZE
2. *~Asterisk (ORANGE RANGE Cover)
3. HARUKAZE (off vocal)
Regular [CD] (¥525)


[CD]
1. HARUKAZE
3. HARUKAZE (off vocal)