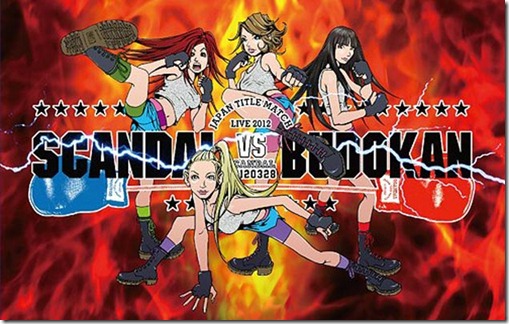 SCANDAL announced the release on either Blu-ray or DVD of their live event at Nippon Budokan held this past March 28th. The release, titled same as the live event, "Japan Title Match Live 2012 – SCANDAL vs Budokan" captures their full performance including MC sessions and encore. The live release hits stores August 22nd – more details follow.
In addition to the live release SCANDAL has also announced a new single "Pin Heel Surfer" (early release details) due out September 12th and new album "Queens are trumps – Kirifuda wa Queen" (early release details) scheduled to hit stores September 26th. Their busy summer release schedule was started off July 11th with single release "Taiyo Scandalous".
When SCANDAL hit the stage on the famous Nippon Budokan they set a record as the fastest since their formation (5.5 years) for an all girls band to make it to the venerable Budokan for a one-man live. Tickets for the event attended by 8,000 fans were snapped up in just 15 minutes. Details and photos from the Budokan event are available in an earlier post here.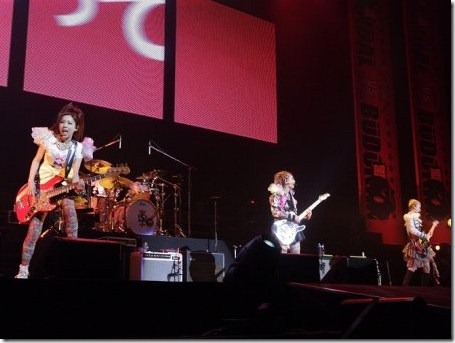 The girls finished up their spring tour "SCANDAL ~ LIVE IDO LIVE ~ TOUR 2012" of 17 performances with a pair at Hokkaido Sapporo Penny Lane 24 on June 16th & 17th.
Upcoming live dates for SCANDAL include,
– MTV ZUSHI FES 12 August 10th-12th at Kanagawa Riviera Marina Zushi with SCANDAL performing August 10th.
– OTODAMA SEA STUDIO 2102 August 29th "Natsunoowari no SCANDAL ~ Itsumo Yori Jakkan no Shittorisa Soete"
– Inazuma Rock Festival 2012 September 15th & 16th – Karasuma Peninsula Kasatsu, Shiga – SCANDAL Sept. 15th
SCANDAL – "Japan Title Match Live 2012 – SCANDAL vs Budokan" – release date August 22nd 2012
Limited Blu-ray (¥6090)


Limited DVD (¥5040)


[BD]

– Opening SCANDAL vs Budokan –
1. SCANDAL Theme
2. Shunkan Sentimental
3. EVERYBODY SAY YEAH!
– MC 1 –
4. BEAUTeen!!
5. Shoujo S.
6. LOVE SURVIVE
7. Hi-Hi-Hi
– RINA Drum Solo –
8. Scandal Nanka Buttobase
– MC 2 –
9. Pride
10. Haruka
11. BURN
12. Switch
– MC 3 –
13 Aitai
14. HARUKAZE
15. SAKURA Goodbye
16. Hello! Hello!
17. Taiyo to Kimi ga Kaku STORY
18. SCANDAL BABY
<Encore>
– MC 4 –
19. Space Ranger
20. Kagero
21. DOLL
– Ending SCANDAL vs Budokan –

[DVD]

– Opening SCANDAL vs Budokan –
1. SCANDAL Theme
2. Shunkan Sentimental
3. EVERYBODY SAY YEAH!
– MC 1 –
4. BEAUTeen!!
5. Shoujo S.
6. LOVE SURVIVE
7. Hi-Hi-Hi
– RINA Drum Solo –
8. Scandal Nanka Buttobase
– MC 2 –
9. Pride
10. Haruka
11. BURN
12. Switch
– MC 3 –
13 Aitai
14. HARUKAZE
15. SAKURA Goodbye
16. Hello! Hello!
17. Taiyo to Kimi ga Kaku STORY
18. SCANDAL BABY
<Encore>
– MC 4 –
19. Space Ranger
20. Kagero
21. DOLL
– Ending SCANDAL vs Budokan –