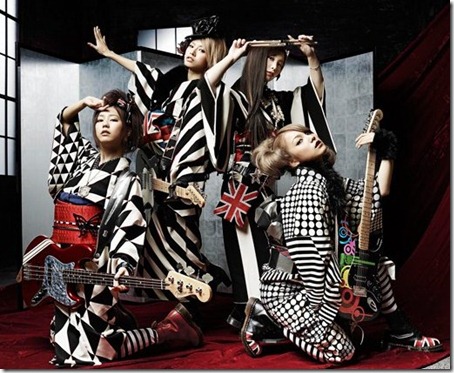 The girls of SCANDAL announced back in September they would hold their first concert at the venerable Nippon Budokan concert hall. This past March 28th that concert titled, "SCANDAL JAPAN TITLE MATCH LIVE 2012 'SCANDAL VS BUDOKAN'" happened in front of 8,000 enthusiastic fans. It is a notable achievement for SCANDAL as they are the fastest since their formation (5yrs,7mos) for an all girls band to play a on-man show at Budokan. More information and concert photos follow,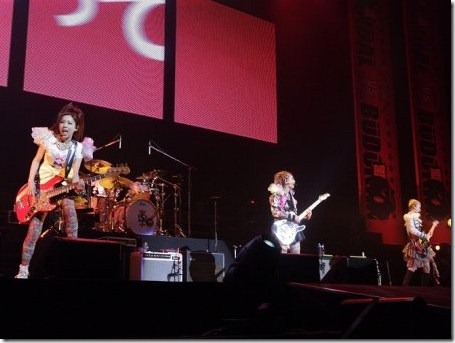 SCANDAL fresh off their February 22nd single release of "HARUKAZE" (release details) featured as opening theme for recently ended popular anime BLEACH and their March 7th album release "Show" (release details) hit the stage to a huge applause to which lead vocalist Haruna shouted "Budokan, I am so excited – here comes our full effort!".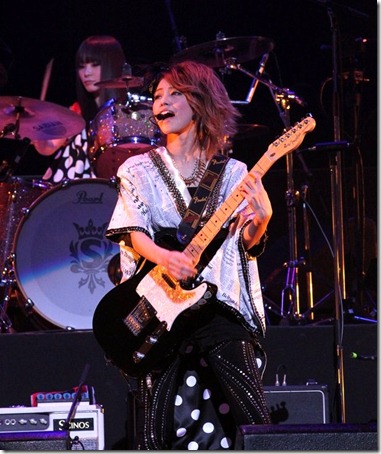 SCANDAL won't rest long as they will start a 17 performance live house tour "SCANDAL 'LIVE IDO LIVE' TOUR 2012" starting May 19th and ending June 17th – full list of venues follow below.
The set list for the concert, "SCANDAL JAPAN TITLE MATCH LIVE 2012 'SCANDAL VS BUDOKAN'"
---
– Opening VTR –
1. SCANDAL Theme
2. Shunkan Sentimental
3. EVERYBODY SAY YEAH!
4. BEAUTeen!!
5. Shoujo S.
6. LOVE SURVIVE
7. Hi-Hi-Hi
– RINA Drum Solo –
8. Scandal Nanka Buttobase
9. Pride
10. Haruka
11. BURN
12. Switch
13 Aitai
14. HARUKAZE
15. SAKURA Goodbye
16. Hello! Hello!
17. Taiyo to Kimi ga Kaku Sutori
18. SCANDAL BABY
<Encore>
19. Space Ranger
20. Kagero
21. DOLL
"SCANDAL 'LIVE IDO LIVE' TOUR 2012"
---
May 19, 2012 CAPARVO HALL Kagoshima OPEN 17:30 / START 18:00
May 20, 2012 DRUM Be-9 V1 Kumamoto OPEN 17:00 / START 18:00
May 22, 2012 DRUM Be-7 Nagasaki, OPEN 18:30 / START 19:00
May 25, 2012 CLUB QUATTRO Hiroshima OPEN 18:00 / START 19:00
May 26, 2012 CRAZY MAMA KINGDOM Okayama OPEN 17:00 / START 18:00
May 28, 2012 DIME Takamatsu, Kagawa OPEN 18:30 / START 19:00
May 29, 2012 club GRINDHOUSE Tokushima OPEN 18:30 / START 19:00
June 2, 2012 Zepp Nagoya in Aichi OPEN 17:00 / START 18:00
June 3, 2012 Zepp Namba Osaka OPEN 17:00 / START 18:00
June 5, 2012 GATE Wakayama OPEN 18:30 / START 19:00
June 6, 2012 MUSE, Kyoto OPEN 18:30 / START 19:00
June 8, 2012 Zepp Tokyo OPEN 18:00 / START 19:00
June 11, 2012 CLUB JUNK BOX Nagano OPEN 18:30 / START 19:00
June 13, Niigata 012 LOTS OPEN 18:30 / START 19:00
June 14, 2012 Rensa Sendai, Miyagi OPEN 18:00 / START 19:00
June 16, 2012 Hokkaido Sapporo Penny Lane 24 OPEN 17:30 / START 18:00
June 17, 2012 Hokkaido Sapporo Penny Lane 24 OPEN 17:30 / START 18:00
Via: natalie