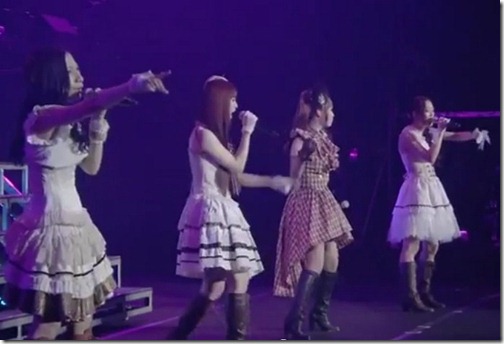 Shoko Nakagawa (Shokotan) and Kalafina hit the stage along with many other anime related singers and groups at the ANIMAX MUSIX 2011 festival held back on November 23rd 2011 at the Yokohama Area. The Kalafina fan Youtube site just uploaded a great clip of Kalafina and Shokotan together preforming Shokotan's hit "Sorairo Days" which was featured as the opening to very popular anime "Tengen Toppa Gurren Lagann".  Hit the jump for this video treat,
Kalafina has performed songs tied to a number of anime such as Black Butler II "Kagayaku Sora no Sijima ni wa", So-Ra-No-Wo-To "Hikari no Senritsu", and  Puella Magi Madoka "Magia". Shokotan also has contributed many anime tied songs most recently "Tsuyogari" featured as the 2nd ending theme to anime Beelzebub.
Also performing at the ANIMAX MUSIX 2011 anime music festival was May'n, KOTOKO, Minori Chihara, GRANRODEO, angela, Shuhei Kita, HIMEKA, Sayaka Sasaki, Marina Kawano, Sea☆A, RAMM feat.ayami, and The Sketchbook.
Kalafina and Shokotan perform Sorairo Days at ANIMAX MUSIX 2011 Yokohama Arena.
[Click image to link out to YouTube, poster has disabled embedding, sorry]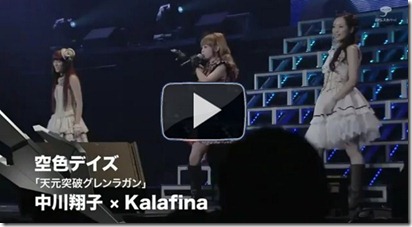 Source: Nawapiza YouTube channel