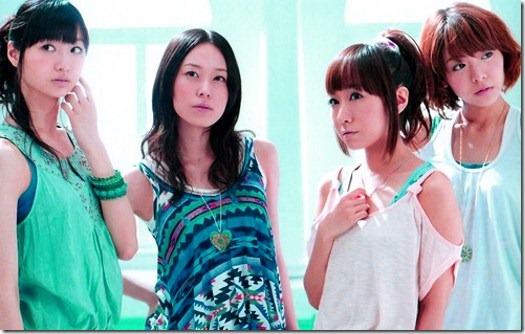 ~ New post with updated details here ~
Sphere has just announced their 3rd album "Third Planet" which is set for release on July 11th. It will be a bit over a year since the girls released their 2nd album "Spring is here" on March 16th 2011. The group consists of voice actresses (seiyuu) Aki Toyosaki, Ayahi Takagaki, Haruka Tomatsu, and Minako Kotobuki who are also busy with solo releases and voice acting in numerous anime including this Spring's Natsuiro Kiseki which was developed specifically for the four of them. More early release details on the album follow,
The track list isn't official but should include their 4 singles with 5 songs released since the 2nd album and several new tracks. The singles are – "Hazy" featured as ending theme for anime Hanasaku Iroha, "LET ME DO!!" used as the theme for the Sphere variety show, "High Powered" features as opening theme for anime Ika Musume season 2, and their most recent double-A single "Non stop road / Ashita e no Kaerimichi" (release details) that features the opening and ending theme for anime Natsuiro Kiseki.
The album is offered in three editions:
– Limited "Blue Planet Box" in special packaging with photo frame, bonus Blu-ray with HD version of the music video(s) and footage of live performance "Spring Party is HERE!" held at Makuhari Messe on April 17th 2011.
– Limited with bonus DVD with music video(s) and off-shoot footage.
– Regular CD-only with a First Press version that includes a special event ticket.
No jacket covers or official track list yet so check back to Comtrya Sugoi for updates when announced.
Sphere – "Third Planet" – release date July 11th 2012
Limited "Blue Planet Box" [CD+BD] (¥7800)


Limited [CD+DVD] (¥3800)


[CD]
1. Hazy
2. LET ME DO!
3. High Powered
4. Non stop road
5. Ashita e no Kaerimichi
6-?. tba
[BD]
1. Music videos tba
2. Live concert "Spring Party is HERE!" (Makuhari Messe 4/17/2011)
[CD]
1. Hazy
2. LET ME DO!
3. High Powered
4. Non stop road
5. Ashita e no Kaerimichi
6-?. tba
[DVD]
1. Music videos (tba)
2. Music videos off-shoot (tba)
Regular [CD] (¥3000)


 
[CD]
1. Hazy
2. LET ME DO!
3. High Powered
4. Non stop road
5. Ashita e no Kaerimichi
6-?. tba
 
Natsurio Kiseki Official website