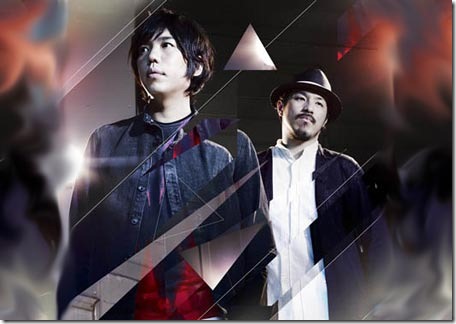 Sukima Switch is preparing their 17th single "Eureka" for release on August 8th. The single is featured as the second opening theme for anime Space Brothers (Uchu Kyodai). The title song is coupled with a pair of live tracks from the duo's "TOUR 2012 ~musium~ performances and their new single is offered in three different editions. More release details follow..
"Eureka" began its run as the opening theme for anime Space Brothers on July 1st with episode #14!
Single release "Eureka" comes in 3 editions:
– Limited with Blu-spec CD and bonus DVD with music video for "Eureka" and 2012 documentary footage.
– Limited Pressing Anime CD-only with bonus CD track of TV-size version of "Eureka". Available only until the end of September.
– Regular CD-only.
First Press versions are available on all editions and add a second CD cover jacket (unknown).
Anime Space Brothers (Uchu Kyodai) is adapted from manga of same name which also has a live action adaption too. The anime began airing April 1st 2012 and follows the story of brothers Mutta and Hibito who both had childhood dreams of becoming astronauts. The year is 2025 and younger brother Hibito has fulfilled the dream and is currently in training for a NASA/JAXA mission. Mutta has lost his job as a successful automotive designer due to an altercation with his manager. Now Mutta needs a push and encouragement to try to fulfill the dream of becoming an astronaut.
Space Brothers airs on Yomiuri TV and streams outside of Japan on Crunchyroll – check our Crunchyroll updates page for all the latest anime episodes available on Crunchyroll or hit the link for "Space Brothers" for reports and episodes.
Sukima Switch – "Eureka" – release date August 8th 2012
Limited Blu-spec [CD+DVD] (¥1890)


Limited Pressing Anime [CD] (¥1365)


[CD]
1. Eureka
2. Kimi ga Inara (live)
3. Garana (live)
4. Eureka (off vocal)
[DVD]
1. Eureka (music video)
2. Sukima Switch 2012 (documentary footage)
[CD]
1. Eureka
2. Kimi ga Inara (live)
3. Garana (live)
4. Eureka (TV-size)
5. Eureka (off vocal)
Regular [CD] (¥1223)


 
[CD]
1. Eureka
2. Kimi ga Inara (live)
3. Garana (live)
4. Eureka (off vocal)
 
Space Brothers Official website