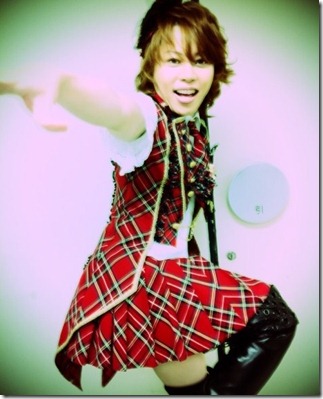 T.M.Revolution held a two day live event to bring in the New Year – "T.M.R. NEW YEAR PARTY '12 LIVE REVOLUTION" – at Nippon Budokan on January 1st and 2nd. 20,000 fans packed into the Budokan over the 2 days to celebrate with Takanori Nishikawa or has he is better known as T.M.Revolution and his annual New Years concert. Concert photos and more details follow,
The concert event was previously reported here and one of the lead-ups to the concerts was a request to fans to send in song cover requests.
Perhaps the highlight of the concert was a full out cover of AKB48's hit "Heavy Rotation" – Nishikawa did a full cross-dress (photo) in AKB48's red-checkered costume complete with matching backup/dancing girls and full dance choreography. Nishikawa joked with the audience "Even if you hate Nishikawa-chan, please don't hate TMRevolution."
Other set highlights included 4 songs from TMR's recent release of game/anime Sengoku BASARA collaboration album and many of his classic TMR songs saving his best with the encore of "BLACK or WHITE" and ending with "WHITE BREATH". The audience's enthusiasm left no doubt it was a great concert.
January 1st Set List "T.M.R. NEW YEAR PARTY '12 LIVE REVOLUTION"
1. Utage
2. FLAGS
3. The Party MUST Go on
4. Story
5. Lucy Moon Face Year parlor tricks: Heavy Rotation
6. Dictatorship -monopolize-
7. Imitation CRIME
8. Liar'S SMILE
9. Out Of Orbit ~ Triple ZERO ~
10. Naked Arms
11. SWORD SUMMIT
12. HEART OF SWORD ~ Yoake Mae ~
<Encore>
13. BLACK OR WHITE?
14. LEVEL four
15. WHITE BREATH
Source: natalie