September 21, 2012
-
toyNN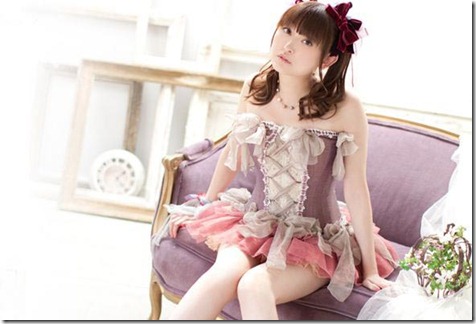 Tamura Yukari has updated the release details for her second compilation album "Everlasting Gift" – cover jackets and full track list are revealed. The album includes singles from "Hoshizora no Spica" (ending theme Magical Girl Lyrical Nanoha StrikerS) to "Endless Story" (insert song anime C3) – a total of 9 singles plus 4 additional songs for 13 total tracks. "Everlasting Gift" comes in two editions and hits stores October 17th – updated release details follow.
Tamura Yukari debuted as a voice actress and singer in 1997 and has provided the voice for many anime and game characters. Perhaps one of her most notable being the lead character Nanoha Takamachi for anime franchise Magical Girl Lyrical Nanoha. She is currently voicing Mayuyu for anime AKB0048 and Tenten for NARUTO Shippuden & NARUTO Spin-off: Rock Lee no Seishun Full Power Ninden.
She recently released her 27th single "Homoemi no Plumage" on August 15th which is featured as the ending theme for Magical Girl Lyrical Nanoha The Movie 2nd A's. This single isn't included on the compilation album.
Tamura Yukari has also started a 10 performance live hall and arena tour "Fall in Love ~LOVE LIVE 2012 Autumn~". Her first performance was at NHK Hall on September 17th and the final will be at Fukuoka Sun Place on November 2nd. Complete venue list at special website (link at bottom).
Album "Everlasting Gift" is offered in on two editions,
– Limited with bonus DVD which includes music videos and off-shoot footage for new song "Party wa Owaranai", 36pg photo book, and special packaging. First Press version adds application card for special event.
– Regular CD-only. First Press version adds application card for special event.
Additional First Press bonus is available at selected stores (image below),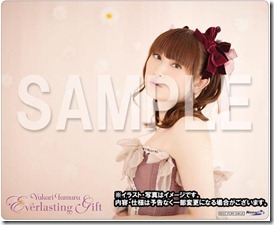 The special event application cards are for live event "I'm 17-years old? ! Yukari-chan Matsuri!!" which is tentatively set for February 27th 2013.
Tamura Yukari – "Everlasting Gift" – release date October 17th 2012
Limited [CD+DVD] (¥3300)


Regular [CD] (¥3000)


[CD] (track list tentative)
1. Hoshizora no Spica (ED1 Magical Girl Lyrical Nanoha StrikerS)
2. BEAUTIFUL AMULET (ED2 Magical Girl Lyrical Nanoha StrikerS)
3. Bambino Bambina
4. Tomorrow
5. You & Me
6. My wish My love (ED Magical Girl Lyrical Nanoha The Movie 1st)
7. Oshiete A to Z (OP B Gata H Kei)
8. Platinum Lover's Day
9. Endless Story (Insert song C3)
10. fancy baby doll  
11. Honey Moon
12. Yumeiro Labyrinth
13. Party wa Owaranai Tamura Yukari feat. motsu from m.o.v.e. (new)
[DVD]
1. Party wa Owaranai (music video)
2. Party wa Owaranai (off shoot)
[CD] (track list tentative)
1. Hoshizora no Spica (ED1 Magical Girl Lyrical Nanoha StrikerS)
2. BEAUTIFUL AMULET (ED2 Magical Girl Lyrical Nanoha StrikerS)
3. Bambino Bambina
4. Tomorrow
5. You & Me
6. My wish My love (ED Magical Girl Lyrical Nanoha The Movie 1st)
7. Oshiete A to Z (OP B Gata H Kei)
8. Platinum Lover's Day
9. Endless Story (Insert song C3)
10. fancy baby doll
11. Honey Moon
12. Yumeiro Labyrinth
13. Party wa Owaranai Tamura Yukari feat. motsu from m.o.v.e. (new)
Tamura Yukari Fall in Love 2012 Tour Official website