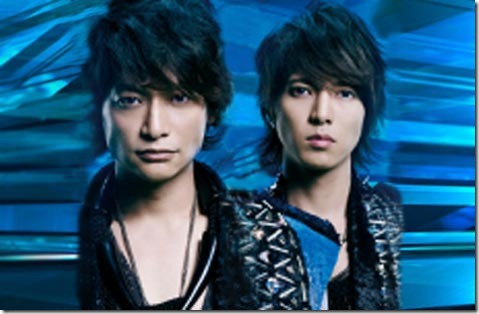 Unit The MONSTERS are preparing to release their debut single "MONSTERS". The new unit consists of popular male artists Yamashita Tomohisa (Yamapi) and Katori Shingo of SMAP. The single has tie-in as theme song for TBS drama MONSTERS in which Yamapi and Katori are co-staring. Single "MONSTERS" comes on four editions including a vinyl LP and all editions hit stores November 28th. Read on for more release details.
Title song "MONSTERS" is co-written by Yamapi and Katori with Jeff Miyahara producing. The coupling tracks are a remix version of the title song by SPACE COWBOY (Lady Gaga) and a cover of popular song "Monster" by record setting female duo Pink Ladies (1978).
The TBS drama MONSTERS co-stars Yamashita Tomohisa and Katori Shingo who are detectives in the Metro Police Department. They form an odd-team and wonder if they can work together while they bring the real monsters to justice.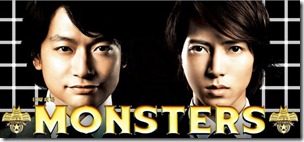 The drama begins airing on TBS TV in Japan November 18th. More information is available at the official website (link at bottom).
Single "MONSTERS" is available on four editions, track list differs on the Limited editions,
– Limited Pressing LP (vinyl) with LP-sized booklet, includes both coupling tracks.
– Limited A with bonus DVD that includes music video for "MONSTERS" and coupling track SPACE COWBOY remix.
– Limited B with bonus DVD that includes music video for coupling track "Monster" and coupling track "Monster" (cover Pink Ladies) .
– Regular CD-only with same track list as LP edition.
All four editions come in a First Press version that adds bonus postcard.
The MONSTERS [Yamashita Tomohisa and Katori Shingo (SMAP)] – "MONSTERS" – release date November 28th 2012
Limited Pressing [LP Vinyl] (¥2500)


Limited A [CD+DVD] (¥1500)


[LP]
<side A>
1. MONSTERS
2. Monster
<side B>
2. MONSTERS (SPACE COWBOY remix)
3. MONSTERS (off vocal)
[CD]
1. MONSTERS
2. MONSTERS (SPACE COWBOY remix)
3. MONSTERS (off vocal)
[DVD]
1. MONSTERS (music video)
Limited B [CD+DVD] (¥1500)


Regular [CD] (¥1155)


[CD]
1. MONSTERS
2. Monster
3. MONSTERS (off vocal)
[DVD]
1. Monster (music video)
[CD]
1. MONSTERS
2. Monster
2. MONSTERS (SPACE COWBOY remix)
3. MONSTERS (off vocal)
SMAP Official website at Johnny's net