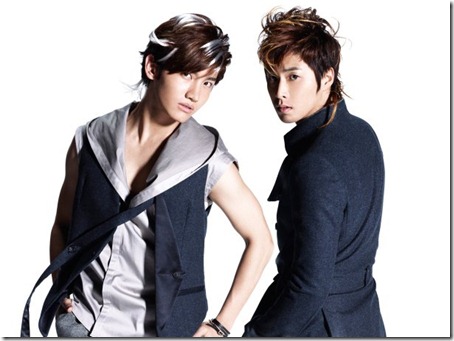 *Updated release information and jacket covers posted!
Duo Tohoshinki (TVXQ) next single "STILL" will hit stores March 14th is described as a poignant Spring ballad perfect for that high-season meeting and parting. The title track "STILL" was just debuted on January 18th during the start Tohoshinki's nationwide tour at Yokohama (Kanagawa) "Tohoshinki LIVE TOUR 2012 ~ TONE ~". More details follow,
During the concert on 18th member Changmin commented before debuting "STILL", "Today is our first time singing this song and it will be released March 14th, I send you a gift from us on White Day."
The coupling song "One More Thing" is the main theme song of the TV drama "Let M Watashi ga Anata wo Aisuru Riyu, Sonohoka no Monogatari" starring Sawajiri Erika .
Tohoshinki – "STILL" – March 14th 2012
Limited [CD+DVD] (¥1890)


Regular [CD] (¥1050)


[CD]
1. STILL
2. One More Thing
3. One More Thing "A" (tentative)
4. tba
[DVD]
1. STILL (music video)
2. tba
[First Press]
1. photo booklet (tentative)
2. jacket-sized card 1 of 6
[CD]
1. STILL
2. One More Thing
3. One More Thing "B"(tentative)
4. tba
[First Press]
1. jacket-sized card 1 of 6
Source: natalie