July 4, 2012
-
Latest Crunchyroll Anime Videos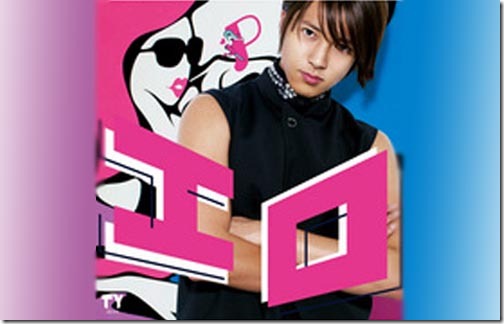 Yamashita Tomohisa (Yamapi) has updated the release information for his second album "Ero". His new album features singles released this past year along with new songs for 11 total tracks (bonus 12th song on the Regular edition). We previously reported on this album release and now the jacket covers and full track list has been revealed. The album is due out July 25th – the updated details follow..
The new album "Ero" includes track "Hit the Wall" with lyrics by Yamashita himself and the bonus track "Odoru Yoru" on the Regular edition was also written by Yamashita.
Yamashita Tomohisa just today, July 4th, released a new single "LOVE CHASE" which has tie-in with anime Toriko as its featured ending theme (more details).
"Ero" comes in three editions:
– Limited A with bonus DVD with music video, music video and cover jacket photo shoot footage, and interview footage.
– Limited B with bonus DVD with album recording documentary.
– Regular CD-only edition includes a bonus track.
First Press versions for all three editions adds a bonus B2-sized poster.
Yamashita Tomohisa (Yamapi) – "Ero" – release date July 25th 2012
Limited A [CD+DVD] (¥3800)


Limited B [CD+DVD] (¥3800)


[CD]
1. Ai, Texas
2. ERO -2012 version-
3. Carina
4. Romantic
5. Shiver
6. Hit the Wall (lyrics: Yamashita)
7. BABY BABY
8. Be The ONE
9. Boku Dake no Kimi ni
10. Turn Off The Lights
11. Nayami no Mori no Mannaka de
[DVD]
1. ERO -2012 version- (music video)
2. Music video (off shoot) 
3. Jacket covers photo shoot
4. Special Interview
[CD]
1. Ai, Texas
2. ERO -2012 version-
3. Carina
4. Romantic
5. Shiver
6. Hit the Wall (lyrics: Yamashita)
7. BABY BABY
8. Be The ONE
9. Boku Dake no Kimi ni
10. Turn Off The Lights
11. Nayami no Mori no Mannaka de
[DVD]
1. Documentary recording album
Regular [CD] (¥3150)


[CD]
1. Ai, Texas
2. ERO -2012 version-
3. Carina
4. Romantic
5. Shiver
6. Hit the Wall (lyrics: Yamashita)
7. BABY BABY
8. Be The ONE
9. Boku Dake no Kimi ni
10. Turn Off The Lights
11. Nayami no Mori no Mannaka de
12. Odoru Yoru (lyrics: Yamashita) (bonus)