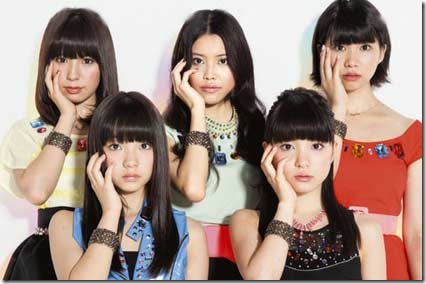 Idol unit 9nine has announced their second album which is planned to include their 4 singles released since their first album "9nine" came out a year ago. On the new album will be their 9th single "colorful" that just hit stores today, February 6th. 9nine's new album isn't yet titled but is scheduled to come on three editions and will be in stores March 13th 2013. Read on for more details…
~ updated details album "CUE" ~
9nine is currently busy with release events and appearances in support of their newest single "colorful" that is also featured as the main theme song for anime movie Star Driver THE MOVIE. More details reported here and below is translated transcript from their interview at Kawaii Girl Japan.
Their second album also includes 8th single "White Wishes" that was featured as the ending theme for anime My Little Monster (Tonari no Kaibutsu-kun) and hit stores December 12th 2012.
Seventh single a double-A side release "Iiaru! Kyonshi feat. Haohao! Kyonshi Girl / Brave" with both songs featured in TV drama "Haohao! Kyonshi Girl" (Good Good! Vampire Girl). The TV drama stars member Umika Kawashima in the lead roll and the rest of the 9nine members with supporting roles. Both tracks will be part of the new album. Their 7th single dropped November 14th – more details are available here.
Their 6th single "Ryuusei no Kuchiduke" came out June 20th 2012 and was featured a theme song for TBS drama NEO "Houkago wa Mystery to Tomoni".
9nine's second album is available on three editions,
– Limited A with DVD and bonus second CD. No track details yet.
– Limited B with DVD and deluxe photo booklet.
– Regular CD-only. First Press version includes bonus.
Details are early – full track list, cover jackets, and bonus details will be revealed so come back to Comtrya Sugoi for updates.
9nine – second album – release March 13th 2013
Limited A [CD+DVD] (¥3900)


Limited B [CD+DVD] (¥3700)


[CD1]
1. Ryuusei no Kuchiduke
2. Iiaru! Kyonshi feat. Haohao! Kyonshi Girl
3. Brave
4. White Wishes
5. colorful
6. – ? undecided
[CD2]
1. -? undecided
[DVD]
1. undecided
[CD]
1. Ryuusei no Kuchiduke
2. Iiaru! Kyonshi feat. Haohao! Kyonshi Girl
3. Brave
4. White Wishes
5. colorful
6. – ? undecided
[DVD]
1. undecided
Regular [CD] (¥3000)


 
[CD]
1. Ryuusei no Kuchiduke
2. Iiaru! Kyonshi feat. Haohao! Kyonshi Girl
3. Brave
4. White Wishes
5. colorful
6. – ? undecided
 
We've had questions and answers with the members of 9nine about their new single "colorful"!
On March 10, they're going to hold solo live at Nakano Sunplaza. We've asked the group which is getting more popular about their new single. You can feel the shining smiles of the members from their words.

Q. What is the best part of the new single "colorful"?

Hirona Murata : It's really an aggressive, cheerful and powerful song. I hope the listeners would be stronger by its words which could help you step forward. The song will make you happy even when you're down and want to try again tomorrow. I've put all my feelings into the line "You'll be alright no matter what happens in the future, for sure!" in the A and B melodies. I wish my feelings would reach you directly. I'm thinking about 9nine when I sing the song. My favorite line is "The one who cares most about you is always close to you at anytime". When you listen to the song, please have someone you care in your mind.

Q. What was most impressive at the shooting of the music video of "colorful"?

Uki Satake : We made poses while singing. Each member was unique and I enjoyed watching them. We had Thai lunch boxes before the shooting, which gave us 100% energy. You'll probably see that on our happy faces in the video.

Q. As the line from the song "You'll be alright for sure!" what makes you feel "alright" when you're in trouble?

Umika Kawashima : Going back to my parents' home. I believe what you need most when you're in trouble is rest, so I go back to my hometown Saitama and cool down by breathing the air there. I can get relaxed by seeing the face of my favorite pet (dog) Vanilla.
      Cooking can also do me a good. When I'm cooking, I can forget all my worries and just enjoy my time. I guess cooking is good because when you're cooking, you get so concentrated that you don't have time to think about anything else. I can finally think about what I should do about the trouble when I'm full with what I've cooked and relaxed.

Q. In some of the photos on the cover of the new single, you're showing cool faces. What were you thinking when you made faces for the photos?

Kanae Yoshii : They often tell me I look cool and mature (actually I'm not cool at all). That's why I've been trying not to look too cool and cold. But this time I tried to look mature on the contrary. The role model of being mature is Namie Amuro.

Q. How are you feeling for the live at Nakano Sunplaza to be held on March 10?

Sayaka Nishiwaki : Nakano Sunplaza is a special place for all of us. Sometimes we've been there to see other artists'lives and other times we've attended school entrance or graduation ceremonies there. I still can't believe we're going to hold live at that special place. I'd like to make the live successful believing in the members and those who've supported us, for we've set our goals higher when we started the year 2013. I hope our ties with those who've always supported us would be stronger at the live.