March 8, 2013
-
Latest Crunchyroll Anime Videos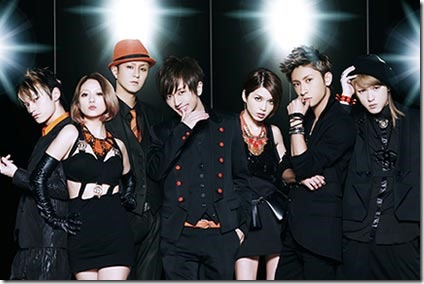 Group AAA is getting ready to release album "Ballad Collection" that contains 13 of their best ballads. Plus the Limited editions include a second CD with 7 solo self-covers by each member. The track lists are updated and cover jackets revealed for the new album. AAA will also simultaneously release their 36th single "PARTY IT UP" along with the "Ballad Collection" album on March 13th 2013. Read on for updated details.
AAA most recently released their 35th single "Miss you / Hohoemi no Saku Basho" which climbed to 3rd spot on the weekly Oricon singles charts. They also released the "AAA Tour 2012 – 777 – Triple Seven" on DVD and Blu-ray that captured their performance during the highlight of their "777 – Triple Seven" tour at the sold-out Yokohama Arena (Sept. 22nd & 23rd). Both releases hit stores on January 23rd 2013.
AAA has also announced 41 performance dates for their 2013 Tour which begins April 20th 2013 at Olympus Hall, Hachioji and runs through October 19th 2013 at Makomanai Sekisui Heim Ice Arena, Sapporo. More details available at their website (link below).
AAA's 36th single "PARTY IT UP" will be featured as the CM song for H.I.S. 'Honeymoon Hen' beginning in February. More details on the single and preview music video reported here.
New album "Ballad Collection" comes on three editions,
– Limited with bonus self-cover CD that features 7 solo songs by each member. Also includes an special AAA original desk diary for 2013 (starting April).
– Limited with bonus self-cover CD of 7 solo cover songs.
– Regular CD-only.
AAA – "Ballad Collection" – release date March 13th 2013
Limited w/Goods [2CD] (¥4980)


Limited [2CD] (¥3600)


[CD1]
1. WISHES
2. one more tomorrow
3. Day by day
4. FIELD
5. a piece of my word
6. Akireru kurai wagamama na jiyuu
7. Love Candle
8. Wonderful Life
9. Mikansei
10. Chewing gum
11. Yume no kakera
12. Deai no chikara
13. Bokura no te
[CD2]
solo self-covers by each member
1. Last Love (Nishijima)
2. HORIZON (Misako)
3. Tabidachi no uta (Urata)
4. SHE no jijtsu (Hidaka)
5. Hasta la vista (Shinjiro)
6. Hide & Seek (Sueyoshi)
7. Us (Chiaki)
[CD1]
1. WISHES
2. one more tomorrow
3. Day by day
4. FIELD
5. a piece of my word
6. Akireru kurai wagamama na jiyuu
7. Love Candle
8. Wonderful Life
9. Mikansei
10. Chewing gum
11. Yume no kakera
12. Deai no chikara
13. Bokura no te
[CD2] 
solo self-covers by each member
1. Last Love (Nishijima)
2. HORIZON (Misako)
3. Tabidachi no uta (Urata)
4. SHE no jijtsu (Hidaka)
5. Hasta la vista (Shinjiro)
6. Hide & Seek (Sueyoshi)
7. Us (Chiaki)
Regular [CD] (¥3150)


[CD] 
1. WISHES
2. one more tomorrow
3. Day by day
4. FIELD
5. a piece of my word
6. Akireru kurai wagamama na jiyuu
7. Love Candle
8. Wonderful Life
9. Mikansei
10. Chewing gum
11. Yume no kakera
12. Deai no chikara
13. Bokura no te